Grymek Named to NJCAA All Tourney Team
Brock Kappelmann - March 27, 2017 7:08 am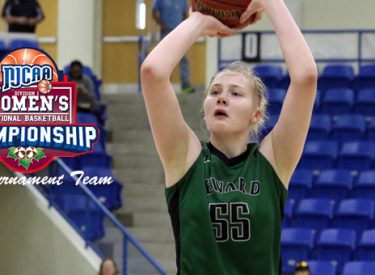 Putting up a pair of double-doubles on the nation's biggest stage, Seward County sophomore Joanna Grymek wrapped up her Lady Saint career in style at the NJCAA National Tournament in Lubbock, Texas as Sunday she was announced to the All-Tournament Team for her efforts. 
Grymek was dominant in both games at the tournament, averaging 21 points, 13.5 rebounds, and 2.5 blocked shots in two Seward contests.  Against #6 South Plains in the Lady Saints second round game she scored 16 points on 6 of 11 shooting and corralled 11 rebounds in 35 minutes of work for Seward.  In the Lady Saints quarterfinal contest against #3 Gulf Coast, Grymek put on a show, pouring in 26 points and ripping down 16 rebounds in Seward's near upset of the eventual National Champs. 
Grymek is the 10th Seward player in history to be named to the NJCAA National Tournament All-Tournament Team, joining the likes of Saints Hall of Famers Kim Ortega, Tegan Cunningham, and Jamie Talbert on the list. 
ALL-TOURNAMENT TEAM
NAME COLLEGE POS. CLASS
Mariah McCully Odessa G Fr.
Alexis Tolefree Jones County G Fr.
Danielle Garvan Chipola F So.
Raven Russell Shelton State F Fr.
Cierra Johnson Shelton State PG Fr.
Annie Brady Salt Lake P So.
Tia Hay Salt Lake G Fr.
Joanna Grymek Seward County C So.
Marla Castro Gulf Coast State F So.
Jhileiya Dunlap Gulf Coast State F Fr.
Naomi Davenport Trinity Valley F So.
Shakeela Fowler Trinity Valley G So.