Gruver Leaves Liberal for Winfield
KSCB News - May 16, 2013 9:27 am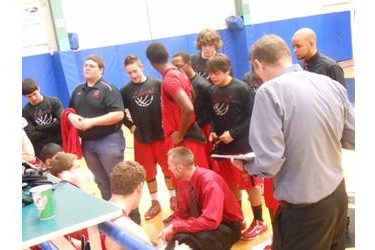 After six years as head coach, Drew Gruver is leaving LHS to take the head coaching job at Winfield. Gruver was an assistant under Rod Briggs and Chris Davis at LHS before taking over the head job in 2008. Gruver was 73-59 in six years as head coach and took teams to state in three of his six years.
Gruver's first year was 2008 when the Redskins were 19-4 overall and won their first WAC championship since 1995 with a 7-1 WAC record. That team lost to Bishop Carroll in the first round of the state tournament in an overtime heartbreaker. His second year saw the Redskins go 17-6 and return to state where they lost to Andover Central. That LHS team was 5-3 in the WAC. In his third year, the Redskins were 11-10 and 2-6 in the WAC. The 2011 team was 9-12 overall and 4-4 in the WAC. The 2012 team shrugged off a 3-11 start and won seven of their final eight games to advance to the state tournament where they would lose to Lansing. This year's LHS team was his worst going 7-14 but winning a playoff game at Maize South. LHS was 2-5 in the WAC.
LHS will form a committee to choose the next head coach. Time is a factor with summer basketball approaching.