Great Bend Too Much for Liberal
KSCB News - October 10, 2015 8:36 am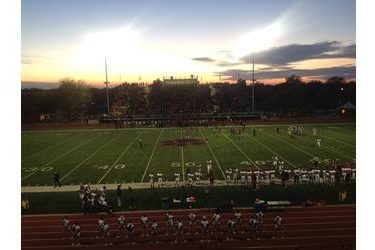 Great Bend dominated Liberal Friday night 38-6 in Great Bend. Liberal scored in the first quarter after a 62 yard run by Jared Hasik led to a one yard Hasik quarterback sneak for a score to make the score 12-6. LHS trailed 24-6 at half. Great Bend picked off two LHS passes. LHS had 202 yards and the Panthers had 352. Jacob Murray passed for two TD's and rushed for one. Hasik rushed for 79 yards.
Great Bend scored first on a busted coverage when Murray found his flanker and top receiver Bryce Lytle for a 42 yard TD at the 10:12 mark. Murray out ran the LHS defense on a 12 yard TD at the 1:56 mark. Hasik's score was Liberal's first offensive score since September 11 against Guymon. It came with 18 seconds to go in the quarter. But the Redskins couldn't stop the Panthers. Murray found Andrew Morss for a 45 yard score at the 10:49 mark and his 14 yard run with 3:31 to go made it 24-6 in a first half which featured a combined four missed PAT's.
Great Bend's Quinton Elliott intercepted two passes in the second half including one for a five yard return and score. Murray added a two yard score and the GBHS junior varsity played much of the fourth quarter.
Liberal is 1-5 and finishes 0-4 in the WAC and Great Bend is 4-2 and 2-2 in the WAC. Liberal hosts Goddard Friday at 7 in 1270 and kscbnews.net.