Great Bend Clobbers Liberal
Brock Kappelmann - October 15, 2016 7:31 am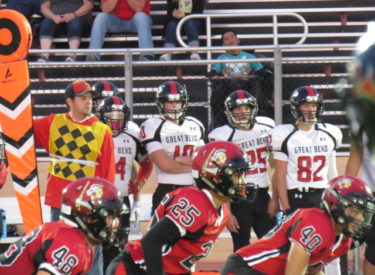 After their best start in 12 years, Liberal came crashing back to earth Friday night.  Great Bend dominated Liberal 49-7 Friday night at the Gary Cornelsen Sports Complex.  The Panthers will likely be the top ranked team in the state after #1 Wichita Heights and #2 Aquinas lost Friday night.
Liberal did everything well except score on their opening drive.  The Redskins burned about 8:30 off the clock but didn't score due to penalties.  Great Bend quarterback Jacob Murray, the WAC's lead quarterback found the WAC's leading receiver Bryce Lytle for a 38 yard score with 1:11 to play in the first quarter.  Murray's eight yard score around the left end with 10:18 to play in the half made it 14-0.  Cal Marshall scored from 17 yards out at the 1:16 mark.  The Panther recovered an onside kick up the middle and Marshall would score from 22 yards out to make it 28-0 at the half.  Murray's 43 yard run began the second half with Great Bend dominating the line of scrimmage to lead 35-0 at the 9:50 mark.  Marshall's 25 yard run made it 42-0 at the 7:43 mark.  Murray was kicked out of the game for throwing a punch.  Back up Koy Brack zipped a 92 yard TD to Brayden Smith at the 4:58 mark.  Zach Mansell scored from one yard out with 1:52 to play for Liberal's only score.
Great Bend has defeated LHS 15 consecutive times.  Great Bend had 405 yards of offense and LHS had 255.  Mansell rushed for 96 yards in the loss.  Great Bend is 7-0 and will play for a WAC title against 7-0 Garden City in Great Bend Friday.  The Redskins are 4-3 and 1-2 in the WAC and will host Dodge City who is 4-3 and 1-2 Friday night at 7 with Redskin Pre-game at 6 on 1270 and kscbnews.net. Photos by Eric Smalldridge.