Great Bend Blanks Redskins in Regional Final
Brock Kappelmann - May 16, 2018 7:21 am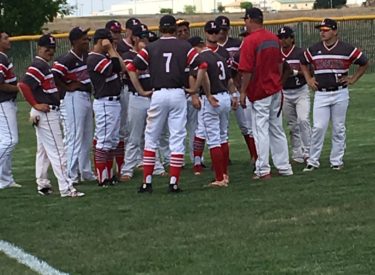 The Liberal baseball team won a game and lost a game at their 5A regional in Liberal Tuesday.  The Redskins beat the Newton Railers 4-0 but lost toe Great Bend 2-0 Tuesday night.
In game one, Braxton Hyde improved to 8-1 with eight strikeouts in the win.  He only allowed five hits.  Liberal scored one in the first when Cesar Burciaga was hit by a pitch, stole a base, and scored on a Javier Bojorquez single.  Bojorquez and Alex Yanez singled with two outs in the third and scored on a Newton error.  Burciaga singled, stole another base, and scored on a wild pitch in the fourth for the 4-0 lead.  Bojorquez and Burciaga had two hits a piece.
In game two, the Redskins had base runners in all but one inning but could not score.  LHS mustered three hits while Great Bend had two hits.  Great Bend scored after an error and walk was followed by a double to left center.  Tucker Deaton pitched six strong innings in his last Redskin game.  He allowed two hits and one earned run.  Deaton had six strikeouts and one walk.  Alex Yanez pitched scoreless sixth.
Liberal finishes 16-6 with a fifth straight winning season.  Great Bend is 9-13 and advances to state with their first win in Liberal since 2013.
Newton game audio:
Great Bend game audio: