Grass Fires Keep Seward County Firefighter's Busy
Joe Denoyer - April 5, 2018 3:56 pm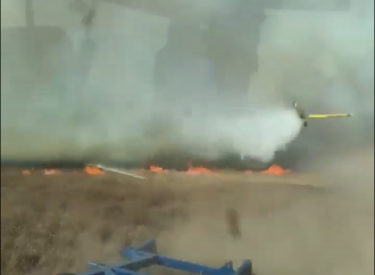 On Wednesday April 4, 2018 at 4:35 pm Seward County Fire Rescue was dispatched to a report of several grass fires along Road 13 and Road W. While en route units came upon a grass fire at Hwy 54 and Road M. 2 engines, assisted by Liberal City Fire quickly contained that fire. The fire at Hwy 54 and Road M was do to a mechanical failure on a vehicle.
Units arrived on scene on Road 13 to find 3 separate grass fires burning northeast mainly in CRP grass. Units assisted by Haskell County, Meade County, Turpin Fire, and Dickson Aerial Spraying ( Josh Dickson ) providing aerial firefighting support. Liberal City Fire assisted with aerial operations by setting up water supply at the Liberal Airport.
The fire burned approximately 400 acres, and with the support of local farmers with tractors and discs were able to contain the fire at 6:35 pm. Kansas State Fire Marshal was on scene, as well as Representative from Kansas Forest Service.
No other details are available at this time. We continue to ask all residents to remain firewise during these critical fire weather days.