Grass Fire Near Hooker on Thursday
Joe Denoyer - October 29, 2021 9:59 am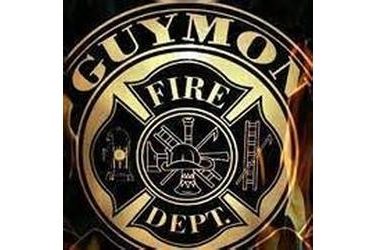 Thursday afternoon, Texas County Firefighters faced a large grass fire in the midst of the high winds and dry conditions. The grass fire located 5 miles east of Hooker on Hwy 64 was called into the 911 Center at 1:04pm. "Hooker, Adams, and Baker Firefighters responded first finding heavy fire and smoke moving rapidly with the wind to the south", stated Chief Grant Wadley with the Guymon Fire Department.
A second alarm was called which sent Fire units from Guymon, Optima, Tyrone, and Hough. "The fire was contained to a mile section before Firefighters, Road Maintainers, and Tractor Disks were able to make a stop on this fire", Chief Wadley said. Within 20 minutes the fire burned nearly 120 acres mainly due to the 35mph sustained winds and gusts exceeding 55mph. This fire, wind, and blowing dirt conditions produced blackout conditions for travelers on Hwy 64 at times.
Cause of the fire is under further investigation but was found to have started 1 mile north of Hwy 64. No structures were damaged during this fire and no injuries were reported. Firefighters remained on the scene for 3 hours extinguishing smoldering areas and assuring embers didn't cross south of Hwy 64.
It is important that during these very high Fire Danger days that the public report any sighting of fire or smoke immediately to 911 or their local authorities.