UPDATED: Grass Fire in Texas County Tuesday Morning
Joe Denoyer - March 6, 2018 4:06 pm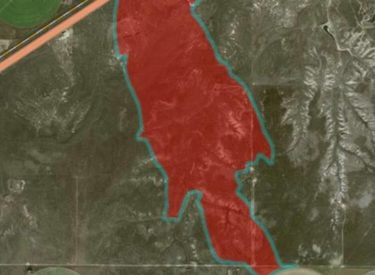 Guymon Firefighters along with other Firefighters in Texas County responded to a large grass fire east of Guymon on Hwy 54 Tuesday morning.
The Guymon Fire Department responded to the first report of a grass fire at 9:45am located 3 miles east of Guymon on Hwy 54 at the Beaver River Bridge. "First arriving units found 2 separate grass fires that were 1 mile apart from each other on separate sides of the Beaver River", said Assistant Chief Grant Wadley. Both fires were being fueled by the 20-30mph winds and the extremely dry vegetation. Guymon Firefighters immediately began to call other area Fire Departments to respond and aid in controlling and extinguishing this fire.
Fire started as a vehicle traveling east bound had a trailer of hay loaded on it. A mechanical failure of either the tire or wheel caused the hay to catch fire as the vehicle was traveling down the highway. Burning bales then began to fall off and land in the shoulder of the highway which then spread the fire into the open pastures. By the time the vehicle stopped, 2 other points of fire were on the side of the road and spreading.
"11 Fire Departments from Texas County responded to this fire and contained it by 11:45am", Wadley stated. Fire crews remained on scene till near 3:00pm. 2 homes were threatened by this fire but no structures were damaged. Several hundred head of cattle were saved and moved to safe areas during the fire as well. In total, this fire burned 560 acres in just under 2 hours. Texas County Districts 1, 2, and 3 responded with water tankers and road graders along with Seaboard Farms which also provided the same resources.
At 4:15pm, Guymon Firefighters also responded to a reported grass fire Tuesday afternoon 1.5 miles south of Guymon on Hwy 136. A fire starting on the east side of the road in the ditch burned nearly an acre before Guymon Firefighters were able to extinguish it", Wadley said. Cause of this fire was undetermined.
All the Counties in the Oklahoma Panhandle are still under a Governor's Burn ban due to the extreme fire dangers that still exists here. It is imperative that everyone maintains awareness and notify authorities upon seeing any fire activity.
(GDH)Fire units from across Texas County battled a large grass fire, Tuesday morning east of Guymon. The fire was started when hay bales from a hay trailer fire, ignited and quickly spread in strong winds and dry conditions. The east side of the fire was contained by 11 a.m., and the fire is not expected to cross Cemetery Road. It is estimated that approximately 556 acres burned. Units from Guymon, Hough, Optima, Hooker, Texhoma, Yarbrough and Hardesty battled the blaze.
For more information go to www.guymondailyherald.com