Grass Fire Closes Highway 54
Brock Kappelmann - March 3, 2017 1:11 pm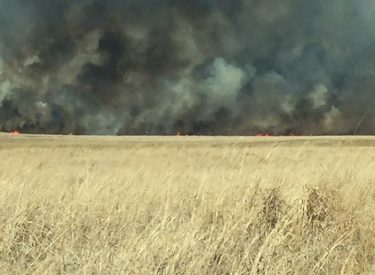 Press Release – Grass Fire
Seward County Fire Rescue
On Friday March 3, 2017 at 11:51am Seward County Fire Rescue was dispatched to a vehicle fire which had also caught the grass in the area on fire at Highway 54 and Road 13.
Units arrived on scene to find one vehicle, with the fire put out by driver, and a large grass fire, wind driven on the South side of highway 54.
The fire was traveling North East along the South Side of Highway 54, then the fire jumped county road 14 and continued burning northeast.
Assistance was requested from Meade County, Turpin Fire, Haskell County, Stevens County, and several local farmers with tractors and discs.
The fire was eventually stopped at county road U.
Seward County Fire responded with 6 personnel, 2 chiefs, and was assisted by Seward County Sheriff's Office, Seward County Emergency Management, along with KHP and KDOT. Seward County Road and Bridge sent several road graders to assist.
Highway 54 was shut down in both directions for a time as visibilities dropped to zero due to smoke conditions and fire apparatus working the fire along the highway.
The fire consumed approximately 200 acres and one abandoned shed. There were no injuries and no evacuations were ordered.