Grand Start for Barrios and Bee Jays
KSCB News - July 3, 2011 9:52 pm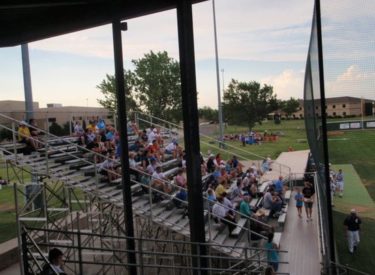 Jake Barrios hit a grand slam off the scoreboard in left center in the first to give the BJ's a 4-2 lead, and the "boys in blue" never looked back in a 9-5 win over the Dodge City A's at Brent Gould Field. Liberal wins their seventh straight Jayhawk League game and 10th of the last 11 overall.
Campbellsville right hander Rusty Devitt wins his team leading fifth game (5-1) going five and one third innings striking out eight, walking three, and allowing four runs. Kansas State's Jared Moore pitched one and two-thirds innings allowing one run and striking out two. Texas-Arlington's Kasey Merck pitched a perfect eighth and Wichita State's Cale Elam pitched a perfect ninth.
Barrios first homer of the season gave the BJ's the 4-2 lead in the first. Liberal tacked on three in the fifth when they scored three runs on two outs. One run scored on an error before Angelo State's Toby Semler doubled home a run to left center and Midland's Reagan Pearson blooped a single to right to make it 7-2.
The A's plated two in the sixth and one in the seventh to make it 7-5. But the BJ's scored two in the eighth when one run scored on an error and Wichita State's Micah Green blooped an RBI single to center. Green was 3-4 with a double.
Liberal is 22-6 overall and 12-5 in the Jayhawk while the A's are 11-14 overall and 5-13 in the league. They have dropped six striaight.
The same two teams play in the 4th of July game at 7 p.m. at Brent Gould Field. The Community Bank and Pizza Hut are the buyout sponsors. First Southern Baptist Church puts on a free picnic from 3 p.m. the 6 p.m. Whirlwind Career Counseling for Veterans will recognize families of deployed soldiers before the game. The game airs on Talkradio 1270 and kscbnews.net.