Gov. Greg Abbott Requests Assistance From the US Small Business Administration for Perryton Disaster Relief
Joe Denoyer - August 18, 2023 4:15 pm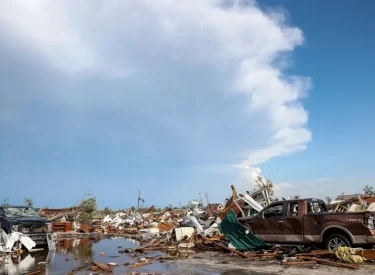 by: Erin Rosas
Posted: Aug 18, 2023 / 01:00 PM CDT
Updated: Aug 18, 2023 / 01:22 PM CDT
AUSTIN, Texas (KAMR/KCIT) — Texas Gov. Greg Abbott recently announced that he requested a disaster declaration from the U.S. Small Business Administration (SBA) to assist the residents of Perryton after a tornado caused major devastation to the town on June 15.
If the request is approved, the announcement reported, assistance will be granted through low-interest disaster loans for residents of Ochiltree County, along with area counties, whose homes and/or businesses were damaged.
"The damage sustained from the severe weather and tornadoes in June created an economic emergency in Ochiltree County and surrounding counties," said Governor Abbott. "The State of Texas continues working to ensure Texans impacted by the severe weather receive the resources and assistance they need to recover. If approved, this disaster declaration will be an important step to help the Perryton community rebuild their homes and businesses."
The announcement noted that the request comes after the State of Texas attempted to determine whether the level of damage in Northwest Texas was significant enough for a Presidential Disaster Declaration. Although 220 homes were damaged and $13.5 million in public infrastructure damages were determined, this does meet the qualification of Federal Emergency Management for a Presidential Disaster Declaration, a release from the office of Gov. Abbott read.
An analysis was performed by local, state and federal officials, along with Individual State of Texas Assessment Tool surveys from Texans, to verify that the damage sustained by the tornado in Perryton met the qualifications for SBA assistance.
https://www.myhighplains.com/news/local-news/ochiltree-county/gov-greg-abbott-requests-assistance-from-the-us-small-business-administration-for-perryton-disaster-relief/