Goodwell Officers Net $3 Million In Cocaine
KSCB News - November 29, 2010 12:00 am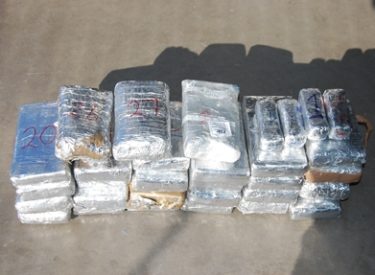 One person is behind bars after a routine traffic stop netted nearly 70 pounds of cocaine with a street value of approximately $3 million.
Adrian Granados Contreras is charged with the felony count of Aggravated Trafficking of Cocaine within 2000 feet of a school or park. He was arrested by Goodwell Police after a routine traffic stop on Highway 54. Contreras was originally stopped by Police for failure to move to an adjacent lane when approaching an emergency vehicle, official documents confirmed.
According to the Affidavit for Probable Cause obtained from the Texas County Court Clerk's Office, Goodwell Police smelled a masking agent coming from the vehicle as they were approaching it.
Consent was given to search the vehicle and a K-9 detected the presence of illegal narcotics. 31 bundles of a white powdery substance, later tested as positive for cocaine, were found in a hidden compartment located behind the rear bumper.
Upon further investigation, it was discovered that Contreras was convicted for two prior drug trafficking charges in California dating back to 1998 and 2002. Contreras had already served his time.
Contreras remains in custody at the Texas County Detention Center with a $500,000 bond. If convicted, he could face more than 15 years in prison and up to $500,000 in fines.