Gonzalez Shuts Down Santa Barbara
KSCB News - August 7, 2010 12:00 am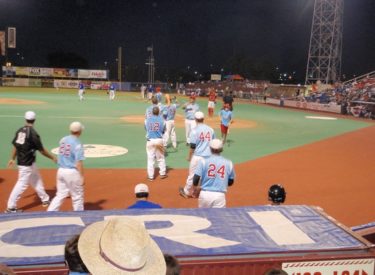 Paul Gonzalez worked eight innings striking out seven as the Liberal Bee Jays shocked the Santa Barbara Foresters (42-10) 8-2 Saturday night at Lawrence-Dumont Stadium. Gonzalez is 6-0 overall and 2-0 in the tournament. Blake Bergeron provided the offense with a grand slam in the eighth for his 10th homer of the year. Liberal is 34-13 after beating the Foresters for the second consecutive season.
Santa Barbara, who has won two of the past four NBC titles and features players from the likes of Texas, Rice, Cal State Fullerton, and UCSB scored first with a Walker Moore homer in the second. Liberal tied the game in the third when Kelby Tomlinson reached on an error and Eddie Arroyo who was 4-5 scored. Liberal made it 2-1 scoring in the fifth when Nick Cocking whistled a double to left center and scored on a Tomlinson ground out. Cocking's infield hit in the sixth scored two more runs in the sixth to make it 4-1. That was the score until Bergerom's mammoth blast to left center in the ninth.
The Bee Jays are 3-0 for second year at the NBC. Liberal faces the St. Joseph, Missouri Mustangs Sunday at 5 p.m. after their 9-4 win over Sedalia, Missouri. The game will air on Talkradio 1270 and kscbnews.net.