Golden Mesa Casino Project Moves Forward
Joe Denoyer - April 2, 2018 3:25 pm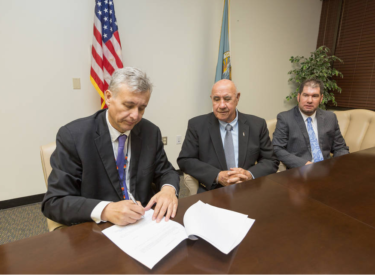 (GDH) ANADARKO, Okla. (March 28, 2018) — The Shawnee Tribe signed a deed placing 107 acres in the Oklahoma Panhandle officially in trust, clearing the way for the building of the Golden Mesa Casino. In doing so, the Tribe and its partners, Global Gaming Solutions, took a major step closer to the start of construction on the 42,000-square-foot, modern casino entertainment center on 107 acres southwest of Guymon, Okla., in Texas County.
"Today signifies an important advancement toward a project that will have a strong, positive economic impact on Texas County," Shawnee Chief Ron Sparkman said. "We appreciate the Bureau's discernment and care throughout this process. Along with our partners at Global Gaming Solutions, we look forward with great anticipation to becoming a member of the Panhandle community."
Also attending the signing in Anadarko was Global Gaming Solutions Chief Executive Officer Skip Seeley.
"We are pleased to complete this next phase in the process of bringing the Golden Mesa Casino project to fruition," Seeley said. "We look forward to beginning construction and to bringing new jobs and economic diversification to the Oklahoma Panhandle."
The entertainment center, named the Golden Mesa Casino to honor the natural beauty of the region, will be the first of its kind built in the Oklahoma Panhandle. Shawnee Development LLC Chairman Greg Pitcher said the group plans to break ground later this spring.