Glenn Beck's New Book Number #1
KSCB News - June 25, 2009 12:00 am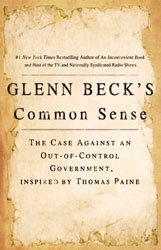 Glenn Beck who is a radio and TV political commentator has a new book out called Common Sense which is inspired by Thomas Paine.
The book was released a week and a half ago and is already #1 on the New York Times and USA Today's best sellers list.
Beck's TV show airs on Fox News and is currently the third highest rated cable news show in the country.
Beck's radio show is also the third most listened to show in America and airs on Talkradio 1270 AM on weekdays from 2-5 p.m.