Gladys the Riveter Coming To SCCC/ATS Library
KSCB News - September 21, 2010 12:00 am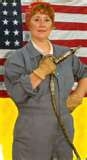 ??Gladys the Riveter?? will kick off the 2010-2011 ??Lunch in the Library??
series at the Seward County Community College/Area Technical School Library
on Monday, October 4.
Living historian Teresa Bachman gives her interpretation of the mythic
??Rosie the Riveter,?? basing it on the stories of her aunts, who worked at
the Boeing airplane plant in Wichita during World War II, and on studies of
the realities of factory work and the World War II home front in general.
Step back in time to Boeing??s 1945 wartime aircraft plant. Gladys Haines,
with rivet gun in hand, is working on a B-29 airplane. Gladys interrupts her
work to speak to a group of new hires (the audience). With the men having
gone to war, the women have stepped into the defense plants to do the work.
As home-front heroes, women made the difference between victory and defeat.
Gladys helps us understand their challenges (large gloves, overly friendly
supervisors, exhaustion, child care) and pleasures (great pay, after-work
recreation, helping in the war effort) of doing ??men??s work?? in the 1940s.
The performance will take place at 12 noon, Monday, Oct. 4, in the SCCC/ATS
Library 1801 N. Kansas in Liberal. Bring your own lunch and we??ll provide
the drinks and cookies.
For more information, contact Matthew Pannkuk at 620-417-1161.