Gilmore Takes Her Talents to Truman
Brock Kappelmann - May 14, 2020 6:40 am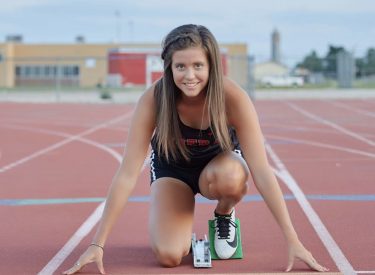 Liberal's Audrey Gilmore is taking her talents to Truman.  Gilmore announced on Twitter Wednesday night that she will attend Truman State in Kirksville, Missouri.  Truman State is an NCAA Division 2 school.  She will compete in the track and field program there.
"I am excited to announce that I have committed to Truman State University to further my education and running career," Gilmore said on Twitter.  "First, I want to thank my family for always supporting me.  Thank you for going to my meets, sitting in the rain, and watching me run in circles.  Thank you to all my teammates who have pushed me day in and day out to be the best version of me.  Lastly, thank you to every single coach who has pushed me along the way, encouraged me, and never stopped believing in me.  I want to thank coach Schwegler for this opportunity.  I can't wait to start a new chapter at Truman State University.  Go Bulldogs."
Gilmore was an excellent mid distance runner for the Redskins.  Her PR in the 200 was a 28.17 in the WAC meet in 2018.  She was 4th in regionals in the 400 as a sophomore when she was timed at 1:01.31.  She ran the 800 ins 2:29.84 at the state meet last year.  She was on a 4×400 team which ran the race in 4:12 and a 4×800 team which ran the race in 10:33 in Goddard.
As a junior, Gilmore was all WAC and a state qualifier in the 800, the 4×400, and 4×800.  As a sophomore, Gilmore was all WAC and qualified for state in the 400.
Gilmore was a multi sport athlete at LHS competing in cross country, basketball, and track.