Garrett Love Issues Statement, "Why We Are Stepping Down"
KSCB News - May 17, 2016 8:27 am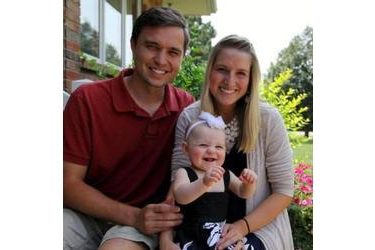 I am exceedingly thankful for the opportunity & responsibility you have entrusted me with to work for you in the Kansas Senate these last 6 years. I am proud that I have used this time to do exactly what I said I would do when I first ran: fight to protect the unborn, support agriculture as the Ag Committee Chair, limit the growth of government, protect our 2nd Amendment rights and defend our rural schools. We have also had the exciting and important opportunity to share with thousands of young people the importance of being involved in our government.
As many of you may already know, our family is growing once again with our 2nd baby coming in December! Being a husband and a Dad are the most important gifts & titles I have ever been given. It truly is a blessing that has changed our lives forever in a very good way. Our little Abby brightens our lives with the sweetest personality (must get that from her mom), is (almost) always happy and she is a great eater! Also, she has been a trooper traveling thousands of miles going back and forth with us to and from Topeka (5-hour trip each way) and all across the state. She's met hundreds of people, including many of you! And while she's been great, we want to give her (and her future siblings) more stability.
As we step further into this season of young parenthood, we feel that it is time to give someone else the opportunity to serve. That's the way our government was created. For individuals to sacrifice some of the things they care about, serve for awhile and then come back home. Unfortunately, far too many elected officials start to look at themselves as kings, when we are really servants whose job is to serve and represent you. On the flip side, too many citizens who would be great leaders themselves don't think they want to be involved in politics because "politics" is a bad word to them. The fact that politics is frustrating and can be ugly is exactly why we need more good people to run for office!
Caley and I are so thankful for everyone who has supported us on our journey so far. The privilege to develop friendships with so many of you has been an irreplaceable highlight of our time in the State Senate. We will still be around and hope to run into you down the road.
Please understand, this has been a very difficult decision. We have gone back and forth on which direction we should go, even within the last couple days. Ultimately, after much prayer and discussion within our family, we feel the decision not to run for re-election would be best for the present season in our lives. I'm planning to continue growing Western Kansas Pheasant Hunts and farm near Montezuma.
I got into politics to help people, and I still want to do that. If you have any concerns or anything I can help you with, always feel free let me know. Thank you again for your prayers and support. God Bless!
Garrett, Caley & Abby Love