Garden City Wallops Redskins
KSCB News - October 3, 2014 11:18 pm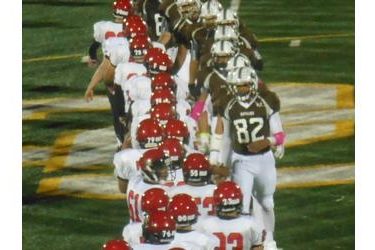 The Garden City a Buffaloes scored 52 unanswered points in a 52-6 win over Liberal Friday night at Buffalo Stadium. Garden led 7-6 after one quarter and 28-6 at halftime. The Buffaloes win their seventh straight over LHS.
Liberal actually scored first when LHS quarterback Jared Hasik finished a 12 play 77 yard drive with a two yard sneak for a score into the south end zone at the 5:54 mark of the first quarter. The Redskins would not gain another first down until the third quarter. The Skins only mustered a season low 122 yards of offense.
Garden City sophomore quarterback Jesse Nunez had a career night with 122 rushing yards and three touchdowns and 189 passing yards and four TD passes. Two went to Caleb Tramp and two to Jared Koster. The Buffaloes had 466 yards.
GCHS is 2-3 and 2-1 in the WAC and LHS is 1-4 and 0-3. Liberal hosts 1-4 Great Bend for Homecoming Friday at 7 on 1270 and kscbnews.net.