Garden City Stops Liberal's Streaks
Brock Kappelmann - January 13, 2021 7:07 am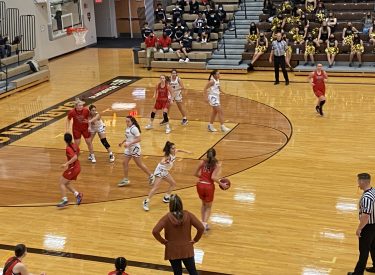 January 5, 2018.  That's the last time the Liberal girls basketball team had lost a WAC game, a road game, or a regular season game.  But now we have a stopping point to those streaks.  January 12, 2021.  Garden City's Lady Buffaloes beat Liberal 42-38 Tuesday night at Garden City.  The loss snaps Liberal's WAC winning streak at 25, their road winning streak at 31, and a regular season winning streak stops at 61.
Liberal fought foul trouble, rebounding issues,  and poor shooting in the loss.  They were 6-27 from three point range but missed 13 straight and 17 of 18 three's during the middle portions of the game.
Liberal jumped to an early 13-9 lead and led 13-12.  But Ashley Carrillo's foul trouble put Liberal in a vulnerable position in the second quarter.  Garden City took a 23-18 lead at the half.  That lead ballooned to nine at 29-20 in the third quarter.  Liberal's 2-3 zone put the clamps down on GCHS as the Lady Redskins pulled to within 29-28 at the end of three.  The Lady Buffaloes led 35-28 but LHS used a 9-2 run to pull even.  A Carrillo 3 made it 37-34 with 1:59 to play and Halle Payton's deep corner three tied the game at 37 with 55 seconds left.  Liberal forced Garden City into a miss on the next possession but couldn't get the rebound.  A controversial foul call against Liberal allowed Garden to shoot two free throws to lead 39-37 with 25 seconds left.  Aubrey Warden was fouled with 5.4 seconds left and made 1 of 2 at the foul line to make it 39-38.  Garden sunk a free throw to lead 40-38.  Liberal's in bound play was unsuccessful as they tried to pass to Carrillo.  Liberal fouled Garden City who made  free throw.
Ashley Carrillo scored 23 in the loss.
Garden City is 2-1 and 2-0 in the WAC.  Liberal is 6-1 and 2-1 in the WAC.  Liberal plays at Dodge City Friday at 6 with Redskin Pre-game at 5:45 on 1270 and kscbnews.net.