Garden City Spoils Senior Night
KSCB News - February 24, 2016 7:23 am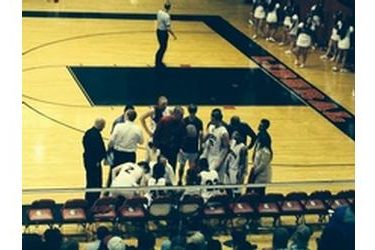 Maybe it shouldn't be so shocking. After a January 12th game which saw LHS win in double overtime in Garden City. And Liberal played without point guard Tim Fitzgerald who injured his leg in Great Bend and was sick also Tuesday night. But after the WAC's lone winless team Garden City pulled out a 57-54 overtime win at Liberal, fans in the Big House left in stunned silence. Liberal had an opportunity to finish the night all alone in first in the WAC, but settles for a three way tie for first with Dodge City and Hays going into the final games.
Liberal jumped on the Buffaloes early leading 6-0 and 13-4 before leading 13-6 after one. LHS led 16-6 early in the second quarter but settled for a 25-19 lead at the half as they couldn't stop Garden City senior Ervwin Leal who came in averaging four a game but scored 13 in the first half and 16 for the game. LHS led 31-23 in the second half before GCHS cut that lead to 32-30. But the Skins atoned and led 39-32 after three. The upset minded Buffaloes finally took the lead at 45-44 after a Garret Doll three pointer. Liberal led 47-45 with 1:08 left. Garden tied the game. Liberal had a chance for the final shot at the end of regulation as Kylan Thomas drove down the lane and dropped the ball in the west rim but was called for a charge with two seconds left. The game went to overtime. LHS took a 52-50 lead but Garden went on a 5-0 run to lead 55-52. Garden City made 24 of 28 free throws while Liberal was 16-23.
Deladris Green scored a career high 27 but no other Skin scored in double figures.
Liberal is 14-5 and 5-2 in the WAC and tied with Dodge City and Hays for the WAC lead after Dodge City won 70-64 at Hays. Garden City wins for the fourth consecutive year at Liberal and is 6-14 and 1-7 in the WAC.
Liberal plays at Dodge City Thursday night at 8 on 1270 and kscbnews.net.