Garden City Shocks Lady Saints
Brock Kappelmann - March 4, 2021 6:32 am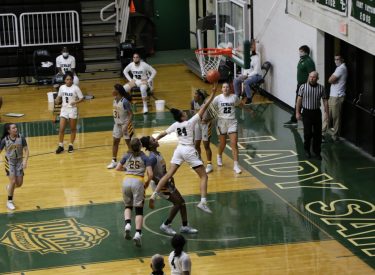 Kenny Hernandez
LIBERAL, Kan. – Seward County Community College Women's basketball team suffers an 81-74 loss and falls to 6-2 overall and in conference play. The Lady Saints were led by Sierra Lynch with 16 points, six rebounds and Sierra Morrow had 15 points and four rebounds. Seward County has lost four times in the Greenhouse since 2016 and the Broncbusters have two of those wins, the other dates back to January 27th, 2016 with a 77-66 Garden City victory.
In the first quarter, both teams kept each other within a couple of possession as the physicality of the game was prominent early in the contest. Seward took a 15-11 advantage with four minutes remaining with a pair of free throws from Sierra Morrow. Garden City responded with a 6-3 run to close out the first quarter and the Lady Saints led 18-17. To begin the second quarter the Broncbuster jumped out to a 27-22 with under six minutes left before halftime. Seward responded with a 9-3 run to give them a 31-30 advantage and after a couple of made free throws the Lady Saints went into the break with a one-point advantage 36-35.
To start the second half both teams remained determined and switched off the lead and the Lady Saints took a 46-44 lead after a Miyah Dubose lay-up. Each team kept themselves within a possession until the one-minute mark with a three-pointer by Garden City's Jill Stephens gave them a 55-52 lead. Seward went into the final quarter down 56-54 and for the third time this season, they trailed at the start of the fourth quarter.
In the final ten minutes of action, the Lady Saints jumped up to a 62-57 lead with under seven minutes left in the game. This turned out to be the largest lead for Seward in the fourth quarter but Garden City continued to trade baskets. Sierra Morrow connected on a tough two at the rim with 4:51 left that gave the Lady Saints a 68-65 edge. Seward would go cold from the field and made just two more field goals as the Broncbusters closed out the game on a 16-6 run. Jill Stephens continued her hot shooting from the field and helped the Broncbusters to the major upset in the Greenhouse.
Seward County's other scorers for tonight were Miyah Dubose with nine points, and Sanaa Smith with eight points.
Garden City was led by Jill Stephens with 15 points and Donetria McGee with 14 points.
The Lady Saints will look to bounce back on Saturday at Colby Community College with tip-off scheduled for 2 pm.