Garden City Scores 20 Unanswered in 2nd Half
Brock Kappelmann - October 5, 2019 6:38 am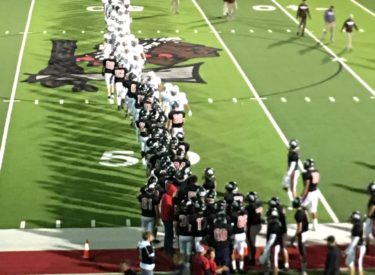 Garden City continued their dominance over Liberal in football Friday night.  The Buffaloes scored 20 unanswered second half points to defeat the Liberal Redskins 26-12 on Senior Night at the Gary Cornelsen Sports Complex.  It's Garden City's 12th straight win over Liberal.
Liberal got off to another promising start scoring first for the fourth time in five games.  Syris Dunlap scrambled left and found Shay Kerr in the endzone for a 13 yard score at the 6:30 mark of the first quarter. The two point attempt failed. The Redskin defense then made a 4th and 1 stop when Dunlap soared over the top of the line and stopped Garden City running back Josh Janas.  The Buffaloes would then stop the Redskins on a 4th and one when LHS attempted a pass play which fell incomplete.  The first quarter ended with the Redskins leading 6-0.
Garden City scored on a circus play on a lateral skipping on the Redskin Field turf picked up by Reyes who tossed to Gomez who was on the ground in the endzone but held on for the score on a 4th and goal from the five play.  Liberal drove into Garden territory but the Buffaloes forced a fumble and Xavier Soriano fell on the fumble for a Redskin turnover.  Liberal's defense would stiffen however.  Josh Arafol's diving catch on a 30 yard pass set up Dunlap's 41 yard run for a score at the 2:45 mark of the second quarter.  Liberal's two point attempt failed.
Garden City leaned on their big lines on both sides of the ball to wear the Redskins down.  Janas one yard run at the 4:47 mark made it 12-12.  Aldo Avalos made a great hit on Garden's two point attempt.  GCHS quarterback Zane Burns found Phillip Biera for a 29 yard touchdown to make it 19-12.  Erik Dominguez rushed it in from 12 yards out for the two touchdown lead.
Liberal is 2-3 and 0-2 in the WAC and Garden City is 2-3 and 2-0 in the WAC.  Liberal plays at Wichita East at Carpenter Stadium in Wichita on Friday at 7 on 1270 and kscbnews.net.