Garden City Medical Provider Permanently Banned from Providing Medical Services in Kansas
Joe Denoyer - March 29, 2017 12:03 pm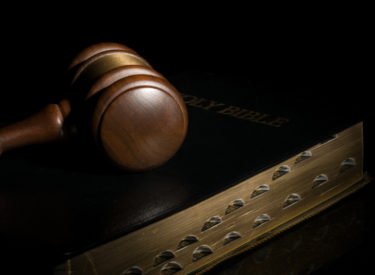 Judge's gavel laying on top of a black holy Bible
GARDEN CITY – (March 29, 2017) – A Garden City physician assistant has been permanently banned from providing medical services in Kansas, Kansas Attorney General Derek Schmidt said today.
Under the terms of a consent judgment approved today by Judge Michael Quint in Finney County District Court, Joel Erskin, who is part owner and operator of Renovo Medical LLC, and University Medical LLC, is permanently banned from engaging in any medical consumer transactions, providing any medical services or being employed by a provider of medical services. As part of the agreement, Erskin was also required to pay investigative fees, refund all payments received from consumers after June 1, 2016, and forgive or cancel accounts receivable as of June 1, 2016.
Schmidt filed a consumer protection lawsuit against Erskin in June 2016 after a lengthy investigation of the defendant's business practices conducted by federal authorities and the attorney general's office. The lawsuit alleged the defendant violated the Kansas Consumer Protection Act by failing to tell customers he used Botox purchased from overseas suppliers that was not approved by the Food and Drug Administration for use in the United States, misrepresenting to patients that he was a medical doctor and operating without the appropriate physician supervision required by Kansas law. The consent judgment references court filings in a separate federal criminal case in which Erskin pleaded guilty to a misdemeanor related to the same conduct.