Garden City Hands Lady Saints First Home Loss
KSCB News - January 28, 2016 6:50 am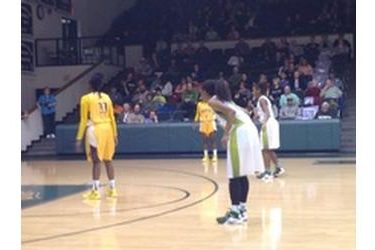 Garden City jumped ahead of Seward 16-4 and never looked back in a 77-66 win over Seward in the Green House Wednesday night. It's Seward's first home loss. The Lady Broncbusters move into a tie for first with Hutchinson in the Jayhawk. Seward played without sharp shooter Daniela Galindo due to a nagging knee injury.
The Lady Broncbusters led Seward 32-27 at half time and 54-42 after three quarters. Seward shot just 33 percent missing a multitude of lay ups. They were out rebounded 53-46. Seward was 7-30 from three point range but several of those makes came late in the game when Garden City had a healthy lead.
Axelle Bernard had 18 points and 13 rebounds in the loss. Clitan De Sousa and Tiani White scored 17 a piece.
Garden City wins at Seward for the second time in the last three years. Garden is 16-5 and 10-1 in the Jayhawk as Seward is 15-7 and 7-4 in the conference. Seward will be featured during the Green Line Thursday night at 6 on 1270 and kscbnews.net. Seward hosts Dodge City Saturday night at 6 with Saints Shootaround at 5:45 on 107.5 and kscbnews.net. Holiday Inn Express and Flooring America are the buyout sponsors.