Garden City Hammers Seward in Home Finale
Brock Kappelmann - May 7, 2021 6:43 am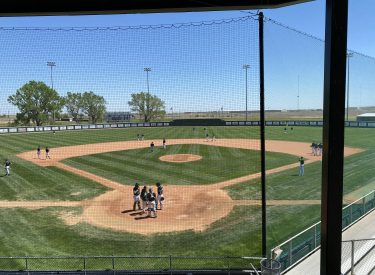 The rivalry lives on.  With Seward in control of their own destiny to host a Region 6 sub regional, 7th place Garden City came to Brent Gould and dominated Seward 8-5 and 17-5 Thursday at Brent Gould Field.  Seward may have played their final home game as they fall into a three way tie for second, third, and fourth with Butler and Barton.
In game one, Garden City scored one in the first before the Saints put up a two spot when the Broncbuster dropped an AJ Folds fly ball to left.  GCCC scored two in the second against starter Sam Berberich for the 3-2 lead.  Seward reclaimed the lead as Peter Goldy ripped a double off the wall in left and scored on a Kase Johnson single.  Braden Boisvert singled home Johnson.  Garden City blew the game open in the third with four runs to lead 7-4.  Seward scored one in the fourth to make it 7-5 when Boisvert singled home a run.  Garden City added insurance in the sixth.  Kase Johnson was 3-3 with three runs in the loss.  Berberich went three innings and allowed seven runs and five were earned.  Cory Didier pitched four innings allowing just one run.
The Broncbusters flexed on the home of the Saints in game two.  The Busters scored one in the second, four in the third, six in the fourth, and one in fifth for a 12-0 lead.  Seward scored two in the fifth before the Busters scored a sixth inning run to make it 13-2.  SCCC scored two in the sixth and one in the seventh.  Garden scored one in the eighth and three in the ninth.  Hits were even at 13-13 but Seward had the games only three errors and walked nine.  KP Werner was 4-6 in the loss.
On the day, Seward did not hit a home run but Garden City hit three.
Seward is 23-23 overall and 18-12 in the Jayhawk West.  Garden City is 21-25 overall and 11-19 in the Jayhawk West.  The same two teams meet at Williams Stadium Saturday at 1 pm with the Saints Dugout Show at 12:45 on 1270 and kscbnews.net.
Game 1 audio:
Game 2 audio: