Garden City Gets by Liberal in Overtime
Brock Kappelmann - February 20, 2019 7:31 am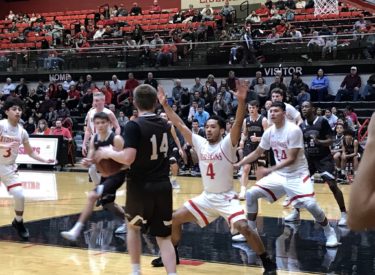 Liberal lost in overtime at home for the second time in five games Tuesday night.  The already WAC champion Garden City Buffaloes overcame their own adversity to defeat the Liberal Redskins 63-58 in overtime in the Big House.
The Buffaloes forced the Redskins into another sluggish start as Garden led 16-11 and 21-14 in the first half.  The Redskins got within 21-20 and trailed 24-20 at the half.  The Redskins led most of the third quarter taking leads of 35-31 and 37-33 before a 38-37 lead after three.  The Skins led 43-39 with 6:30 to go.  Liberal led 43-42 with 5:09 to play when Garden City's talented back court teammates of Carlos Acosta and Azavier Williams bumped heads.  Acosta would not come back into the game.  Liberal led 50-47 with 1:11 to play.  Alex Lopez sank two free throws with 22 seconds left for a 52-49 lead.  Officials called a foul on Liberal as Garden City's Kyler Lamb attempted a three pointer.  Lamb sank all three free throws to tie the game with eight seconds left.  Brody Sumner's double clutching lay up attempt rimmed out and the game went to overtime.  Both teams scored on their first possession of overtime.  But Liberal left Lamb open on a three pointer to give the Buffaloes a 57-54 lead in OT.  Garden led 59-54 and would not look back.
Syris Dunlap and Brody Sumner scored 13 a piece.  Jordan Mendoza had 12.
The Redskins are 10-10 and finish 1-7  in the WAC.  Garden City is 16-4 and 7-1 in the WAC.  Garden has won four straight over Liberal and seven straight at Liberal.  Liberal will play sub state at Garden City Wednesday on 1270 and kscbnews.net.