Garage Destroyed by Fire in Guymon
Joe Denoyer - March 15, 2018 12:58 pm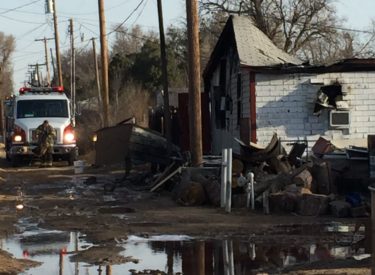 (Guymon Fire Dept.)A privately owned garage full of tools and equipment was destroyed by fire early Thursday morning.
The Guymon Fire Department responded to the 12:06am call of a structure fire behind 112 N. Beaver. "First arriving fire units reported heavy fire and smoke conditions coming from a garage behind the residence", stated Assistant Fire Chief Grant Wadley. The garage was being used for working on auto parts, lawn mower parts, and small engine repairs. Fire could be seen coming out of the roof on Firefighters arrival. It took Firefighters nearly an hour to bring the fire under control. "Firefighters were faced with electrical power lines, multiple propane tanks, gasoline containers, and other flammable liquid containers which intensified the fire and the extreme dangers", Wadley said. Heavy smoke conditions were present throughout the nearby area of this fire. A Police officer was treated and released at the scene by Paramedics for smoke inhalation.
Owner of the garage was not home at the time of the fire. Cause of the fire is under investigation by the Guymon Fire Marshall. Loss of building and contents is estimated at $25,000. Firefighters and First Responders remained on scene until 3:00am.