Ft. Supply Escapee Recaptured
KSCB News - August 19, 2010 12:00 am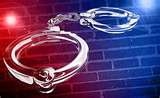 An escapee from the William S. Key
Correctional Center in Fort Supply has been recaptured after about
five hours on the run.
Prison officials say 25-year-old Damon Lane was discovered
missing about 12:45 p.m. Wednesday and was found at 5:15 p.m. three
miles north of the minimum-security prison.
Details of his escape were not immediately released.
Lane is serving five years for stolen property convictions in
Hughes County.