Frugoli Departs from Seward County
KSCB News - December 7, 2022 10:55 am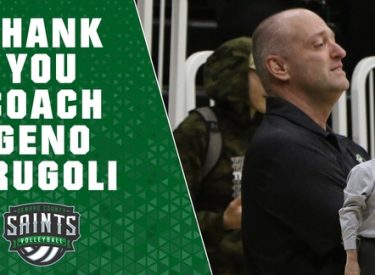 By: Kenny Hernandez
LIBERAL, Kan. – Seward County Community College sees the departure of Head Volleyball Coach Geno Frugoli. Frogoli has been the Head Coach of the Lady Saints since 2020 and spent three seasons in the position at Seward County. This past season was the best in his tenure with a 31-8 overall record, Co-KJCCC regular season title, Region VI and Plains District championship, and finished 11th at the NJCAA national tournament. While at Seward County, Frugoli accumulated a 76-23 (.767) overall record and a 41-7 (.854) conference record and kept the Lady Saints ranked in the top 20 of the NJCAA year after year.
Frugoli has been named the Region VI Coach of the year twice, with the first in the spring of 2021 and this past season. In his first season, the Lady Saints competed in the spring of 2021 due to COVID restrictions. In the spring, Seward County went 22-5, 15-1 in the KJCCC to earn the regular season title to host the Region VI tournament. The Lady Saints fell to Barton in the Regional championship match 3-2 in the Greenhouse and did not receive an at-large bid for NJCAA National Tournament.
The fall of 2021 was a quick turnaround, but the Lady Saints finished the season 23-10 and tied for second in the KJCCC with a 12-4 conference record. Seward County entered the Region VI tournament as the three seed and upset No. 2 Barton 3-2 in the semifinals to make it to the Regional Championship for the second straight year under Frugoli. The top-seeded Grizzlies from Butler defeated the Lady Saints in the championship, and Seward County was the Region VI runner-up.
Last season Frugoli and the Lady Saints accomplished their final hurdle with a 3-1 victory over Butler in the Region VI championship last November to punch their ticket to the NJCAA National Tournament. Frugoli was named District Coach of the Year at the National Tournament Banquet in West Plains, Missouri. Seward County entered the NJCAA National Tournament as the No. 11 seed and faced off against the eventual National runner-up, Miami Dade, in the first round. In the consolation bracket, the Lady Saints went 1-1 with a victory over Eastern Arizona but fell 3-1 to New Mexico Military Institute. The Lady Saints finished the season tied for 11th at Nationals and Frugoli had his best national tournament finish.
We wish Coach Geno Frugoli well on his next adventures and thank him for all he has done for the Liberal community.
The Seward County Athletic Department will conduct a nationwide search for the next Head Coach of the Lady Saints, which will be the tenth in program history.