From Lady Saints to Cowgirls, Littell and White's Relationship Runs Deep
KSCB News - June 14, 2012 2:21 pm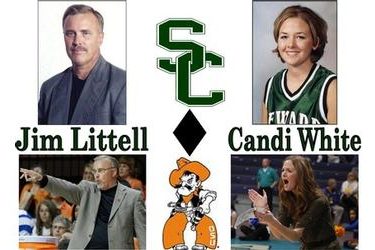 When Canyon High School basketball star Candi White was
being recruited by legendary coach Jim Littell of Seward County during
the 1997-98 school year, little did either of them know just where the
relationship would lead them to. After signing with the Lady Saints and
playing for Littell for two seasons, White would later sign at Texas
Tech where she was a standout for the Red Raiders in Lubbock. Following
her playing career White got into coaching and started at Valparaiso
University before moving on to the University of Missouri-Kansas City
where she became one of the youngest Head Coaches in the nation in the
spring of 2007. After five years at the helm for the Kangaroos, White
was given a surprising phone call from her former Head Coach Littell who
was now the shot caller for the Oklahoma State Cowgirls program. After
an offer from Littell for White to join his staff in Stillwater as the
Associate Head Coach, White contemplated the move before deciding that
their run in Liberal was proof enough that they could succeed together
on the big stage in the Big XII and therefore she accepted the job on
April 7th and began the Seward connections second stint together, this
time as fellow coaches.
While Jim Littell was in his seventh year of dynasty
building at Seward County in 1997-98, a lightning quick guard from a
successful high school program at Canyon High School caught his eye.
While the Lady Saints had put together a 26-2 Jayhawk West Conference
mark over the past two seasons and would go undefeated at 16-0 during
the current season in the Greenhouse, Littell was still searching for
the combination of players that would put his squad over the top and
send them to the NJCAA National Tournament for the first time. He
thought he might have found that player in Candi White, a true point
guard playing under another longtime Head Coach in Joe Lombard at Canyon
High. White had a number of Division I offers on the table and
countless others from the many junior colleges in her home state of
Texas but none of them seemed the right fit to get her game to the level
where she wanted it to be at. That's when Littell took the opportunity
to introduce her to the Lady Saints program in which White admitted she
was impressed with. "Seward was the only out of state school that I
visited. The support of the community and the boosters to go along with
the history and Coach Littell made it very attractive" she said. On a
home visit, White said that Littell first sold her dad and she was not
far behind. "I told Candi that I would do my best to help her get to
that higher level" Littell said. "Even if she was only for Seward for
one year, if she was ready to move on, I told her that that was ok" he
continued. White signed on the dotted line and had a successful
freshman year at Seward County in which the Lady Saints got over the
hump and reached the National Tournament for the first time where they
finished in 5th place. "Candi was the ultimate point guard" Littell
said. "She just understood the game and was a coach on the floor, she
made her teammates better" he said of White. White had opportunities to
leave after an All-Conference freshman season but decided to stay at
Seward and led the Lady Saints to a #1 ranking in the National polls in
1999-2000 where Seward marched through the regular season undefeated
before losing in the Region VI Championship game to finish the year
33-1. White was named an All-American following the season and went on
to sign at Texas Tech University after the year. "I never had to get
after Candi very much" Littell said of the two's relationship during her
two year stint in Liberal. "She was always locked in and focused and
really wanted to win" he finished. White reciprocated Littell's words
when the question was turned around to her saying "he trusted me on the
court and gave me the freedom to play. He demands a lot and has high
expectations and in the end really cares about each one of his players."
White finished her career atop the all-time assists list at Seward
County with 577, a record that still has had no challengers 12 years
later.
White then moved on to play for the Red Raiders of Texas
Tech where she played in all 64 games during her two seasons, starting
all 32 games as a junior and drawing 22 starts during her senior season.
She picked up right where she left off at Seward, racking up 249 assists
and 87 steals over her Tech career while helping the Raiders to a 45-17
record and a pair of trips to the NCAA Tournament Sweet 16.
Following her playing career White decided to go the
coaching route and caught on with Valparaiso University in Indiana where
she was an assistant for two seasons. After getting her feet wet at
Valpo, White was hired at the University of Missouri-Kansas City in 2004
and after just two seasons, was promoted to the Head Coaching position
in 2007. White was the Head Coach for five seasons at UMKC, turning
around a Kangaroo program into a presence in the Midwest. Under White's
guidance, UMKC reached the Summit League Championship Game in 2011-12
and advanced to the WNIT before finishing with a 22-12 record. White's
success was very much like her former Head Coach Littell who took over a
struggling program before building it into a prominent force under their
leadership. "I learned a lot from Coach Littell" White said. "He
taught me that players are pieces of their Head Coach. Also, I have
learned that you just have to be yourself as a Head Coach. Although it
can be trying at times, you have to do it the way you want to do it and
get everyone to buy into that" she said.
After White's big year for the 'Roos, Littell, who was
looking for an Associate Head Coach, decided to give his former point
guard a call to entertain the idea. "I was surprised, flattered, and
honored all in one when Coach Littell called me" White said. "I told
Candi there was no rush and just to think about it" Littell said. White
admitted that the decision was not easy on whether to leave her Head
Coaching job at UMKC to be an Associate Head Coach at Oklahoma State but
said "to know who you are working for is very valuable. Knowing that
Coach would treat me and his players the right way was one of the
deciding factors."
White accepted the job with the Cowgirls in early April
and hit the ground running in Stillwater. "I just let her coach"
Littell said. "She has been around the Big XII, she knows what it
takes. She is still a competitor and brings a lot to our program" he
said. When both were asked what the difference in their late 90's
relationship was when they were player/coach as compared to now coaching
together, each of them responded similarly from their different
prospective as Littell said "just like when she played for me I give her
a lot of freedom. She is very creative and takes initiative. She is
the same hard worker that I had as a player and we are somehow still on
the same page". White said "it has been an easy fit since I already
knew his style and who he was. He really hasn't changed a whole lot."
Littell finished the conversation with "you know, really our
relationship hasn't changed. The only thing that has changed is our
jobs."
The Cowgirls fought through a trying year in 2011-12 to
become WNIT Champions until Littell's watch. Now the Littell/White duo
will try and take Oklahoma State one step further to the NCAA Tournament
during their first season together in 2012-13 and should have a good
chance to do so as they return every player from last year's 22-12 team.
White, who is now Candi Whitaker and a mother to her two year old son
Westin, summed up joining OSU by saying "I am really excited for the
opportunity to be back with Coach Littell again. Oklahoma State is a
great place and I look forward to seeing what we can do in the upcoming
season."