Friday's Games and Thursday's Scores
Brock Kappelmann - February 11, 2022 6:37 am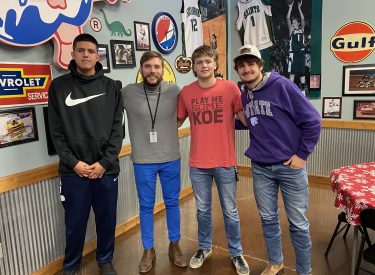 Liberal at Hooker (6:30 on 1270, 92.3, KSCB and The Legend App)
Hugoton at Syracuse
Cimarron at Ulysses
South Gray at Southwestern Heights
Lakin at Elkhart
Spearville at Meade
Satanta at Kiowa County
Wichita County at Sublette
Thursday's Scores
Moscow 74 Rolla 45
Tyrone 62 Beaver 30
Girls
Tyrone 45 Beaver 27
Wrestling
Dodge City 55 Liberal 15
The Liberal JV team attended a tournament in Elkhart this week starting on Monday and finishing up on Thursday night. The liberal JD took on the south western heights Mustangs JV on Monday and cruise to a big victory 78-40. The Redskins twin towers down low Zayden Martinez in control Fletcher combined for 30 points in the game as the Redskins moved up and down the court on the mustangs to secure a running clock in the fourth quarter and their biggest win of the season.
Thursday started early for the Redskins JV as they played the early game against the Lissa's tigers after starting with a 7-0 run the Redskins would never look back as they went on to defeat the Tigers 72 to 50. In the Game the Redskins hit six three-pointers two from Adan Mata and two from Ryan Mein as they handled the Tigers in the semifinal of the tournament to move onto the championship game at 7:30 Thursday night.
In the championship game it was the Redskins defense that really took hold of the game as the Redskins took an early night nothing lied after to Zayden Martinez dunks and they never looked back. Leading score for the game was Kentrail Fletcher who scored 20 in the game Zayden Martinez added 13 and a multitude of others scored as well only two players didn't score in the game. Eric Arriaga added eight points and nine steals and the Redskins dominated from chip off to the final buzzer defeating the Stanton County Trojans 71 to 27 in the championship game to win the tournament.
That win against Stanton county moves their wins streak to nine games in a row and put them on pace to have a double digit win streak tomorrow night as they face the Hooker Bulldogs in Hooker.
Cody Hickox