Free Throws the Difference in Lady Saint Loss
KSCB News - February 22, 2014 11:45 pm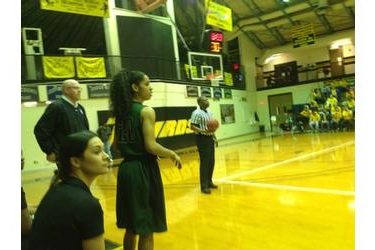 The Cloud Lady Thunderbirds shot 18 more free throws than Seward as Cloud defeated Seward Saturday night in Concordia. Cloud was 21-32 while Seward was 12-14 in Cloud's 79-71 win over #16 Seward in Bryant Gymnasium. The Lady Saints lost Korina Chapman to an injury in the first half.
The Lady T-Birds, who lost five home games this season, raced to a 27-13 lead and led 43-39 at halftime. The Lady Saints led 51-49 with 15 minutes remaining before Cloud went on a 19-2 run to lead 68-53.
Cloud's Jordan Alexander had 30 points and 10 rebounds. Seward's Rebekah Hatchard scored a career high 17 in the loss. Fabiana Monte added 16 and Shanise Brooks scored 15 with eight rebounds.
Seward is 24-4 overall and 9-4 in the Jayhawk West. Cloud is 16-12 and 7-6. Seward hosts Pratt Wednesday at 6 in the Green House on B107.5 and kscbnews.net.