Fourth Quarter Collapse Sinks Seward
Brock Kappelmann - February 6, 2022 8:54 am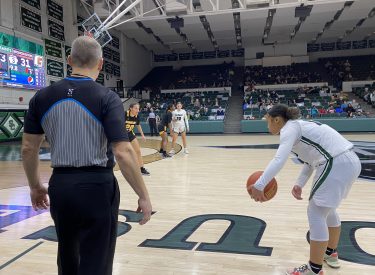 Seward was riding high.  They had just defeated first place and #23 Independence on the road Thursday and were about to move to within a half game of first and win a ninth straight game.  But unfortunately for them, that is only an alternate ending and not reality as Garden City roared back from 18 down to shock Seward 74-70 in overtime Saturday night in the Green House.  Garden City out scored Seward 29-14 in the fourth quarter.
Seward started strongly lead 13-3 and led 15-8 after one quarter.  Seward led 25-17 at halftime.  The Lady Saints led 46-31 after three quarters.  Seward led early in the fourth quarter 51-33.  But Seward fell apart due to turnovers, bad offensive possessions, and fouls.  The Lady Busters finished the game on a 27-9 run to tie the game 60-60 after regulation after two clutch free throws by D'Arrah Allen.  Seward led 64-61 in overtime but the foul calls kept coming.  Garden led 67-65 before a Sierra Lynch steal and lay up tied the score at 67-67.  Seward couldn't contain Garden City's Dayshawna Carter who scored 37 points.  She averages five a game.
Garden City was 32-41 at the foul line while Seward was 24-34.  Garden City out rebounded the Lady Saints 38-28.  Seward forced the Lady Busters into 27 turnovers and SCCC turned it over 23 times.  Seward shot 32 percent and Garden City shot 36 percent.
Sierra Lynch scored 25 points and grabbed six rebounds.  Miyah Dubose had 11 and D'Arrah Allen had 11.
Seward falls 18-7 overall and 14-5 in the Jayhawk.  Garden City sweeps the season series and it 16-7 overall and 11-7 in the Jayhawk.  Garden City sweeps the season series. Seward plays at Cowley Wednesday night at 5:30 with Saints Shoot-around at 5:15 on 107.5 and the KSCB and The Legend App.