Four Saints Earn All American Status at NJCAA Tennis Tournament
Brock Kappelmann - May 18, 2018 3:01 pm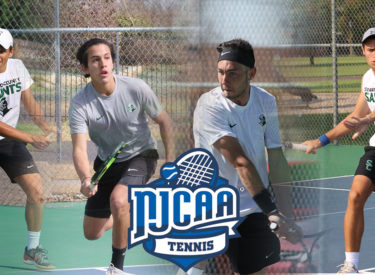 PLANO, Texas – The Saints tennis season ended with a bang in Plano, with four Saints being named 2nd Team All-Americans. Duro Opacic, Hugo Lobo and the team of Benji Finet and Carlo Izurieta each finished as the National Runner-Up in their flight, earning them All-American status.
The day started with the No. 2 singles draw finishing first, as Duro Opacic fell to Alex Parker of Tyler 6-4, 6-1. Opacic finishes his illustrious career with the Saints as the National Runner-Up and first NJCAA All-American since 2015. His 34 career wins breaks the Seward County record for most wins in a career.
The match started out in Hugo Lobo's favor in the No. 3 singles draw championship, as Lobo cruised to a 6-3 first set win over Tyler's Luke Simkiss. However, Simkiss turned in on in the next two sets, winning both sets by a score of 6-3 to win the championship. Lobo ends his freshman season as the National Runner-Up, become just the third Saint in program history to achieve the feat.
Benji Finet and Carlo Izurieta battled in the No. 3 Doubles Championship, but came up just short of a title, losing to Drew Brown and Karl Mosterd of Tyler 7-6(8), 6-2. Finet and Izurieta finish the season as the National Runners-Up and become the first NJCAA Doubles All-American team in Seward County history.
The Saints finish the tournament with their highest point total and finish in program history, claiming 3rd place as a team. With Opacic and Lobo each being named Second Team All-American in their flight, the trio of All-Americans is the most Seward has had in the NJCAA National Tournament.
[cid:378abfaf-b2fd-4d65-8fdf-c9be279f0b46]