Four Redskins Sign
Brock Kappelmann - April 19, 2018 7:24 am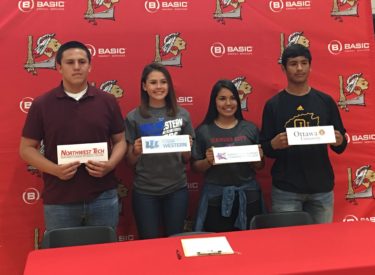 Four Liberal High School student athletes took part in a signing ceremony in the Big House gymnasium Wednesday afternoon.  Elwin Trejo signed in the wrestling program at Northwest Tech.  Jesse Alvarado signed for football at Ottawa.  Ruth Nunez signed to play soccer at Kansas City Community College.  Corey Mein signed to play golf at Iowa Western.
Trejo is the reigning state champion in the heavyweight division.  He recently defeated the 6A state champ in a spring competition.  Trejo finished 32-7 this season and had 101 wins in his career.  He placed fourth at state as a junior.  He was also a two time all WAC football player.  He will wrestle in the heavyweight division at Northwest Tech which in a junior college in Goodland and is part of the Jayhawk Conference.
Jesse Alvarado signs to play football at Ottawa University in Ottawa, Kansas.  Alvarado was a first team all WAC strong safety for the Redskins this fall.  He had 73 tackles, two fumble recoveries, a forced fumble, and two interceptions for the Skins.  He will play in the defensive secondary for Ottawa.
Ruth Nunez signs to play soccer at Kansas City Community College.  Nunez was an all state player of the back line at Liberal last season.  She now plays the center spot on defense but projects on the left side of the defense at KCK.  Nunez had also been an LHS cheerleader.
Corey Mein has signed to play golf at Iowa Western Community College.  Mein made state all four years in the golf program at LHS.  She won regionals as a junior and was third as a senior.  She finished 13th at state as a senior.  She is currently playing softball at LHS.