Four LHS Athletes Sign
KSCB News - April 23, 2015 6:45 am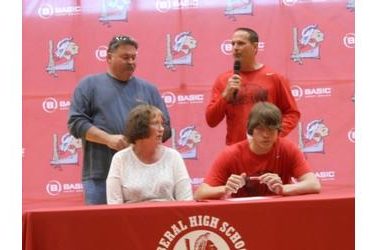 Four Liberal High School athletes signed Wednesday afternoon in the Big House. Basketball's Hayden Coker signed at St. Mary's in Leavenworth. Soccer's Adrian Michel signed at Hesston. Wrestling's Sergio Borjas signed at Barton. Girls soccer's Kelly Ramirez signed at Garden City.
Coker inks with St. Mary's after averaging eight points and nine rebounds per game for the 13-8 Redskins. He had 322 career rebounds which is third the past 10 years and 179 rebounds this season with was third best the past 10 years. He had a 15 rebound game at Dodge City.
Adrian Michel signs to play soccer at Hesston. He was part of a defense which allowed only two goals this season for the 14-3-1 Redskins. He joins his brother Esteban Michel who is also in the Hesston program.
Sergio Borjas signs at the Barton wrestling program which is brand new. Borjas won state at the heavyweight division this winter. Kelly Ramirez signs to play soccer at Garden City. She and the LHS girls host Hays Thursday at 2:30. The signing ceremony only included Michel and Coker because Borjas and Ramirez were absent from school.