Four Lady Saints Sign with Four Year Programs
Brock Kappelmann - May 10, 2017 7:15 am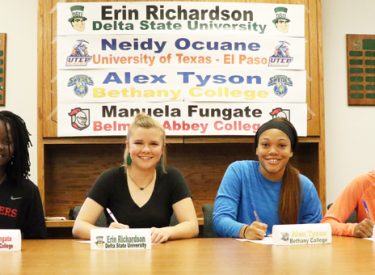 It was a busy day in the Seward County Women's Basketball Program on Tuesday as four Lady Saint sophomores signed their National Letter of Intents with Neidy Ocuane signing with UTEP, Erin Richardson signing at Delta State, Manuela Fungate signing at Belmont Abbey, and Alex Tyson signing at Bethany to continue their playing careers.
Ocuane follows a similar path to a number of Lady Saints as she signs with the Miners of UTEP to play her final two seasons. Ocuane had a breakout sophomore campaign for the Lady Saints, averaging 11.2 points per game while starting 34 contests. She led Seward in assists with 4.9 per game from her point guard spot, helping her earn Honorable Mention All-Jayhawk accolades. Scoring in double figures 21 times during her sophomore season, arguably Ocuane's best game of the year came in the NJCAA National Tournament against #6 South Plains when she willed Seward to a win and a spot in the Elite Eight with a 21 point performance against the Lady Texans. She joins former Lady Saint Tamara Seda and a UTEP program in the midst of a rebuilding process after an uncharacteristic 8-23 season and an offseason coaching change.
Another Seward soph that put together a breakthrough season for the gals in green in 2016-2017, Richardson signs at Delta State after a 2nd Team All-Conference campaign for the Lady Saints. Richardson was one of three Lady Saints to play in all 35 games, starting 30 of those, while averaging 8.0 points and 2.9 assists per game for the Jayhawk Champions. Through the middle portion of the season, Richardson caught fire, scoring in double figures in 11 of 15 games, including a career best 23 point performance against Neosho County. Richardson finished her career with 103 three pointers made, connecting on 40% of her tries from distance this season. Richardson heads to Cleveland, Mississippi to play for the Lady Statesmen after Delta put together a 14-14 record and an 11-11 conference mark in 2016-2017. Richardson should have a chance to come in and contribute for Delta after the Lady Statesmen lost six seniors to graduation this Spring.
An absolute fan favorite in the Greenhouse this season, Fungate goes from the Midwest to the East Coast where she will play for North Carolina's Belmont Abbey next season. Fungate was a bundle of energy for Coach Toby Wynn and the Lady Saints this season, playing in all 35 contests while averaging 4.6 points and 7.7 rebounds per night. Fungate's 16.2 rebounds per 40 minutes played led the Jayhawk Conference and her 11 double digit rebound efforts on the season ranked second on the Seward roster. Belmont Abbey will look for Fungate to make an immediate impact after going 11-17 and losing in the first round of the Conference Carolinas Tournament last season.
The only Lady Saint staying in the state of Kansas, Tyson inks with former Barton Coach Keith Ferguson and Bethany. Tyson, who Seward Coach Toby Wynn calls "the best team player on the roster this season", played in 34 games, shooting 51% from the field and chipping in 2 points and 1.4 rebounds per game for the Lady Saints. She put up two of her best scoring efforts in back to back games against Neosho and Patrick Henry this season, combining for 14 points in the two contests while going a combined 6 for 9 from the field. Bethany will look to bounce back from a tough 7-21 year that saw them miss the KCAC Tournament with a 10th place finish.
The Lady Saints 2017 sophomore class finished with a 57-11 overall record, going 39-6 in Jayhawk Conference play including a Jayhawk Conference Championship, a 5th place finish at the NJCAA National Tournament, and a pair of runner up finishes at the Region VI Tournament.
Roy Allen