Four Lady Saints Sign With Division 1 Teams
Brock Kappelmann - November 10, 2022 6:47 am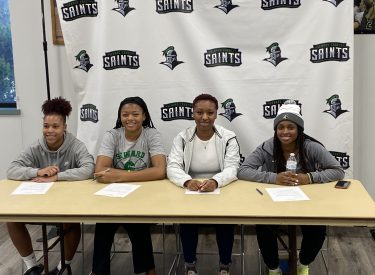 Four Seward Lady Saint basketball players signed with Division 1 schools two days before the start of their season at Seward.  There was a signing ceremony in the Hall of Saints Wednesday afternoon.  D'Arrah Allen signed at UTEP while Keanna Coburn, De'Shawnti Thomas, and Halima Salat sign at Old Dominion.
Allen is a 5'8″ guard from Los Angeles, California.  She averaged 10 points per game as a freshman for the 22-10 Lady Saints.  She scored 29 points in a game last year at Cowley.  She joins former Lady Saint Zhane Thompson at UTEP under coach Kevin Baker.  The Miners were 14-15 last year.
Keanna Coburn has yet to play her first game at SCCC and has already signed division 1 with ODU.  She is a 6'4″ freshman from Olive Branch, Mississippi.
Halima Salat is a 5'7″ guard from Palo Duro High School in Amarillo.  She averaged nine points per game last year and scored 24 points and made eight three pointers in a win at Coffeyville.
De'Shawnti Thomas is a 5'9″ wing from Sapulpa, Oklahoma.  She averaged four points and four rebounds a game last year and came on late in the season scoring double digits in the last three games including a 15 point game against Coffeyville.
Coburn, Salat, and Thomas are going to and Old Dominion program coach by Women's Basketball Hall of Fame inductee DeLisha Milton-Jones.  The Monarchs were 24-10 last season.
The Lady Saints open Friday at 5pm central time in Hobbs, New Mexico against Odessa.  The game will air on B107.5 and kscbnews.net with Saints Shootaround at 4:45.