Four Lady Saints Sign to Four Year Schools
KSCB News - April 27, 2015 3:00 pm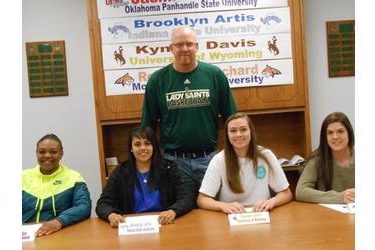 Four Seward Lady Saints sign to four year programs Monday afternoon in the All American Room at SCCC/ATS. Seward's Kyndal Davis signs at Wyoming while Brooklyn Artis inks with Indiana State, Rebekah Hatchard at Montana State, and Jasmine Jordan at OPSU.
Davis was a first team all Jayhawk West and all Region 6 player for the 28-6 Lady Saints. The 5'9" Canyon native averaged 14 points, seven rebounds, and 2.4 steals a game. Davis scored 30 points in Seward's NJCAA win over Lake Region State last month in Salina. She signs for a Wyoming program in the Mountain West which was 16-14 last year under coach Joe Legerski.
Brooklyn Artis comes from Amarillo Caprock and played one year for the Lady Saints after a medical redshirt her freshman year. She averaged 13 points per game and was named second team all Jayhawk West. Artis signed for coach Joey Wells and Indiana State in the Missouri Valley which was 17-13 last year. She scored 34 in a game at Weatherford in November.
Adelaide, South Austrailia's Rebekah Hatchard signed at Montana State after averaging 11 points a game and making 57 three pointers. She signs for Tricia Binford in the Big Sky Conference school after they went 15-15 last season. Hatchard scored 22 at home against Barton and 21 at Barton.
Jasmine Jordan signs at Panhandle State after the Chicago native averaged three points and four rebounds per game. She scored nine in a home game against GCCC. Charles Terry is the head coach at OPSU.