Founder of National Beef, John Jacobson Dies at 106
Joe Denoyer - April 15, 2017 2:00 pm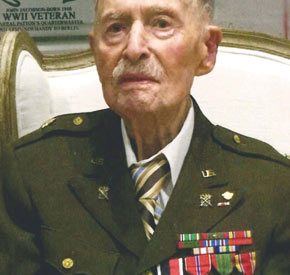 John "Jack" Jacobson, a resident of Point Clear, Alabama, died on Thursday, April 13, 2017.
Jacobson was a pioneer in the meat packing industry and opened National Beef in Liberal in 1968.
For the past four years, he has been actively working with Dr. Barry Booth at veteran's events, especially talking with school children about World War II. To him "every day is another day to be of service."
Born on Oct. 29, 1910 in Worcester, Massachusetts, the sixth of eight children born to Lena (Hiatt) and Max Jacobson, Jack began working at the family business from an early age.
He attended Worcester public schools and Boston University, where he was in the ROTC.
In 1940, he enlisted in the Army and went to Camp Lee, Petersburg, Virginia, where he married Georgia Schwanda in 1942.
In 1944 he was sent to England to prepare for the invasion of France, and spent the next two years as quartermaster to Gen. Patton in France and Germany. He remained in the U.S. Army Reserve from 1946-1953.
He and Georgia moved to Massachusetts in 1946, where he rejoined the family company. In 1962, they moved to Kansas City, Missouri to close a family owned packing plant; instead he expanded it, moving the company to Liberal, Kansas.
Jack was chairman of the Board of Directors and chief executive officer of National Beef and chairman of the Board of Idle Wild Foods Inc. He was an innovator and outstanding leader in the meat packing industry.
He was a member of the Board of Directors of the American Meat Institute, co-founder and board member of the Meat Importers Council of America, and in 1983 was elected as a lifetime board member. Under his leadership, Idle Wild Foods became a Fortune 500 company.
He served as vice president and director of the Kansas Association of Commerce and Industry for six years, chairman of the United Fund and Red Cross, and on the Board of Trustees of Southwest Medical Center in Liberal.
He was an active member of the Rotary Club for many years.
In 1986, he retired, moved to Florida and became an avid golfer, spending winters in Cocoa Beach, Florida and summers in their home in Auburn, Massachusetts. In 1999, he and Georgia moved to Point Clear, Alabama, where he played golf with the Mulligan Group at Lakewood until he was 101.
The family is deeply grateful to Barry Booth; he has been a true and devoted friend. We are also especially grateful to Jack's wonderful caregivers, to his niece, Gail DalPian for her love and support, and to Margaret Tolley for her friendship and caring over the last few years.
Jack was preceded in death by his wife, Georgia; and son-in-law, Richard Casey of Point Clear.
Jack is survived by his son, John (Trudy) Jacobson of Leawood, Kansas; his daughter, Barbara Casey of Point Clear; three grandchildren, Sean (Emily) Casey of Brooklyn, New York, Erin (Jonathan) Bailey of Atlanta, Georgia and Joseph Jacobson of Stilwell, Kansas; two great-grandchildren, Jackson and Elizabeth Bailey; his brother-in-law, Joseph (Ginny) Schwanda; and many nieces and nephews.
Graveside services will be held Tuesday, April 18, 2017 at 11 a.m. at the Alabama State Veterans Cemetery at Spanish Fort.
In lieu of flowers, the family asks that you donate to your favorite veteran's organization, or to programs that promote education, mentoring and leadership in the community.