Foul Trouble Foils Seward Upset Bid with Trinity Valley
Brock Kappelmann - December 18, 2022 10:38 am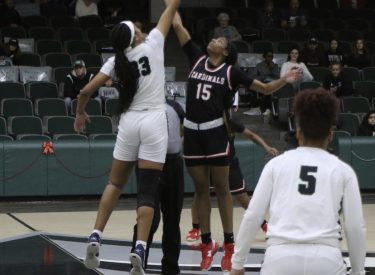 The Seward Lady Saints and #6 Trinity Valley Cardinals went back and forth Saturday afternoon and evening in the Green House.  The teams traded blows and the lead see-sawed throughout the ballgame.  But when both of Seward's top posts Keanna Coburn and Tiana Winn fouled out, Seward's hopes for an upset win were dashed as Trinity Valley survived 70-62 in the final game of the Seward County Basketball Christmas Classic in the Green House.
Trinity Valley led 18-15 after one quarter.  Seward out scored TVCC 18-13 in the second quarter to lead 33-31 at halftime.  The Lady Saints led 49-47 after three quarters.  Seward led 56-52 with 6:20 to play.  Trinity Valley tied the game with 4:15 remaining and never trailed again.
Trinity Valley out rebounded SCCC 51-34.  SCCC forced the Cardinals into 19 turnovers and Seward turned it over 16 times.  Seward shot 37 percent from the field and 5-24 from three and 13-14 from the foul line.  Trinity Valley shot 32 percent from the field with a 2-11 night from three point range and 20-29 at the foul line.
Kylee Hunt and Halima Salat scored 15 a piece while De'Shawnti Thomas and D'Arrah Allen had 13 a piece.  Tiana Winn pulled down nine rebounds.
Seward falls to 8-5 and Trinity Valley is 13-2.  Seward plays in the Lake Charles Classic in Lake Charles, Louisiana December 31 at 2:30 pm vs Temple.  Seward faces Tyler January 1 at 10am in Lake Charles.