Fort Scott Returns Favor to Seward
Brock Kappelmann - May 11, 2019 8:32 pm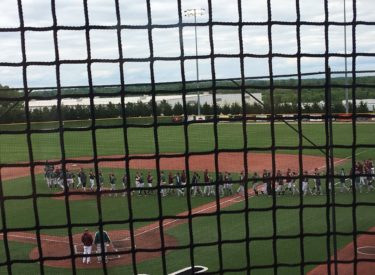 One year after Seward came to Fort Scott and swept the Greyhounds, Fort Scott returned the favor on Saturday afternoon at the LaRoche Baseball Complex in Fort Scott.  The Hounds sent the Saints into the offseason with 8-0 and 6-5 wins over visiting SCCC.
In game one, Tanner King got the ball one year after a complete game win over Fort Scott.  King logged 6 and 1/3 this time allowing seven runs with six strikeouts and no walks. Cory Didier pitched 1 and 2/3 allowing one run.  The Greyhounds scored one in the second and third before breaking it open with a grand slam by Fort Scott's Aris Nakagawa in the fifth. The Hounds added runs in the seventh and eighth.  Benny Ayala and Owen Martin had two hits a piece.
In game two, Seward built a 5-2 lead only to see Fort Scott score four unanswered runs. Cole Evans made his final appearance as a Saint and worked 5 and 2/3 innings striking out nine, walking three, and allowing six runs on five hits.  Braedon Gould went 2 and 1/3 scoreless innings in his final SCCC game.  Ayala singled home a run in the first. Fort Scott scored two in the second.  KP Werner singled to lead off the fifth. Joe Kuhn walked and Richard Armijo bunted them over to second and third. Both runs scored on a FSCC error. Zane Alexander doubled down third to make it 4-2 Saints. Cayde Ward singled moving Alexander to third.  Alexander scored on an Ayala ground out.  Fort Scott scored two in the fifth and two in the sixth to lead 6-5.
Seward loses nine of their last 10.  They finish 26-27.  The Saints miss out on going to Wichita for the third time in four years.  Fort Scott is 37-19. They break a six game losing streak to Seward dating back to 2006.
Game 1 audio, first four innings:
Game 1, fifth inning to end:
Game 2 audio, first five innings:
Game 2 audio, sixth inning to end: