Former Ulysses Man To Command Guard Battalion
KSCB News - November 9, 2010 12:00 am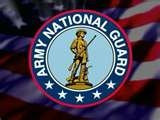 Lt. Col. Christopher Burr, who was reared in Ulysses, will take command of the 2nd Battalion, 130th Field Artillery, Kansas National Guard, in special change-of-command ceremonies Saturday in Salina.
The battalion has armories in Hiawatha, Ottawa, Marysville, Concordia, Holton, Abilene and Clay Center. Command will pass from Lt. Col. John Rueger to Burr.
Burr comes to the 2nd Battalion, 130th Field Artillery from the 635th Regional Support Group, where he was brigade executive officer. He is a life-long resident of Kansas, growing up in Ulysses.
His military career began when he enlisted in the Kansas Army National Guard in March 1984 with Battery C, 1st Battalion, 161st Field Artillery, in Liberal. He completed Officer Candidate School in June 1989 and was commissioned a second lieutenant on June 15, 1989.
Burr is a graduate of the Field Artillery Officer Basic and Advanced Course, Combined Arms and Services Staff School, the Command and General Staff College, and various other military schools.
His assignments have included assistant executive officer, fire direction officer, executive officer, battery commander, battalion fire direction officer, battalion operations officer, battalion training officer, brigade operations duty officer, brigade plans officer, division artillery personnel officer, division artillery duty operations officer, Joint Forces Headquarters assistant administrative officer, and most recently as the 635th Regional Support Groups executive officer.
His military awards include the Bronze Star, Meritorious Service Medal, Army Commendation Medal with two oak leaf clusters, Army Achievement Medal with three oak leaf clusters, Army Reserve Achievement Medal with two oak leaf clusters, National Defense Medal, Armed Forces Reserve Medal, Army Service Ribbon, Kansas Meritorious Service Ribbon, Army Reserve Component Overseas Training Ribbon.
Burr resides in Buhler, and he works full time for the Kansas Army National Guard as the administrative officer for the 635th Regional Support Group, headquartered in Hutchinson.