Former Seward Basketball Stand-out Ransom Earns Player of the Week Honors
Joe Denoyer - December 22, 2020 9:43 pm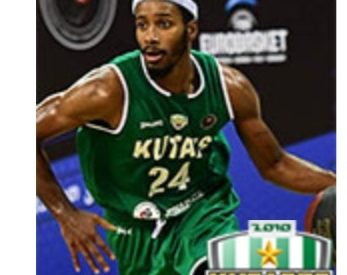 27-year old point guard  Kaheem Random (183-PG-93) had a very impressive game in the last round for league's best team Kutaisi and receives a Hoops Agents Player of the Week award for round 10.
He got a double-double of 21 points and 10 assists, while his team outclassed Batumi (#6, 3-5) with 37-point margin 125-88. It allowed Kutaisi to consolidate first place in the Georgian league. They maintain a perfect record without any lost game in the league. It's already very far into the season and Kutaisi keeps a perfect 7-0 record. In the team's last game Ransom had a remarkable 70.0% from 2-point range. He turned to be Kutaisi's top player in his first season with the team. Sam Houston State University graduate has very impressive stats this year. Ransom is in league's top in points (6th best: 20.9ppg), assists (2nd best: 7.0apg) and averages solid 3.6spg,59.3% FGP and 52.9% from behind 3-point line.
Second best performed player last round was AJ Sumbry (203-F-94, agency: Players Group) of Cactus. He is American forward in his first season at Cactus. In the last game Sumbry recorded impressive double-double of 18 points and 17 rebounds. Of course Cactus cruised to a 75-65 relatively comfortable win over the higher-ranked Titebi (#5, 3-4). This victory allowed Cactus to move up to 8th position in the standings. His team is not often considered as one of the league's best with a mere 3-5 record. Sumbry is a newcomer at Cactus and quickly became one of team's most reliable players.
Third place about best performers goes to Raheem Johnson  (208-C/F-91) of Tskhum-Abkhazeti (#4). Johnson scored 21 points and grabbed ten rebounds. Despite Johnson's great performance Tskhum-Abkhazeti lost 80-83 to #2 ranked TSU. But his team cannot count on just a single player as he also needs help of the other teammates especially in such crucial game. The last thing Tskhum-Abkhazeti needs is to lose another game like this one. They lose more and more distance to the top teams. Their record is 4 victories and 3 lost games. Johnson has a very solid season. In 5 games in Georgia he scored 11.0ppg.
Other top performing players last week:
4.  Aleksandre Phevadze (206-F-98) of Tskhum-Abkhazeti – 21 points, 11 rebounds and 4 assists
5.  Quinton Dove (201-F-98) of TSU – 22 points and 11 rebounds
6.  Nikola Vujovik (211-C-93) of Batumi – 20 points and 8 rebounds
7.  Nemanja Kapetenovic (197-G-97) of Batumi – 21 points, 2 rebounds and 3 assists
8. Akaki Dvalishvili (207-PF-91) of Kutaisi – 16 points, 10 rebounds and 4 assists
9. Samajae Haynes-Jones (183-PG-96) of Cactus – 26 points and 2 assists
10.  Beka Bekauri (209-F/C-91) of Batumi – 19 points, 8 rebounds and 2 assists
The Player of the week is selected based on efficiency calculation, but also including game result, importance of the game, if played recorded double-double/triple-double, etc.