Former SCCC Volleyball Standout Named Academic All-America® Team Member of the Year
Joe Denoyer - July 26, 2022 7:46 pm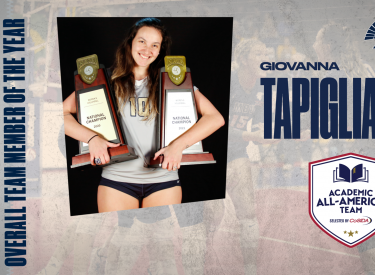 AUSTIN, Texas – While the decorated volleyball career for Missouri Baptist University graduate student Giovanna Tapigliani came to a close in December, the prestigious awards continue to roll in. On Tuesday, Tapigliani was named the 2021-22 CoSIDA Overall Academic All-America® Team Member of the Year for the NAIA, as selected by the College Sports Information Directors of America (CoSIDA).
Tapigliani also won the NAIA award in 2020-21 and became just the fourth student-athlete ever across all levels to win Academic All-America® Team Member of the Year honors twice. She joins University of Nebraska volleyball great Sarah Pavan (2006-07, 2007-08), and track & field/cross country student-athletes Maryann Gong (2015-16, 2016-17) and Leah Esposito (2015-16, 2016-17), of Massachusetts Institute of Technology and Carroll College.
The household names who have won the award includes U.S. Olympians Katie Ledecky and Maya Moore, NFL stars Peyton Manning, Carson Wentz, Alex Smith, and Justin Herbert, among others.
The native of São Paulo, Brazil was one of 12 NAIA Academic All-America® Team Members of the Year eligible for the Overall Team Member of the Year award, which included fellow Spartan Jordan Crawford of men's cross country/track & field. Tapigliani graduated summa cum laude in May 2021 with a bachelor's degree in Business Administration and a 4.01 cumulative grade-point average. In her first year of MBU's MBA program, Tapigliani once again boasted a perfect 4.0 GPA.
"Winning this award for two consecutive years is such an honor to me," Tapigliani said. "Finishing my volleyball career in this way is something I would never have imagined years ago. If I could give one piece of advice to anyone, it would be to put God's Kingdom first in your life, and He will take care of the rest. I would also say never to let anyone tell you that you are only an athlete because your purpose is much bigger than that. Once you grasp that thought, you can accomplish many things: Matthew 6:33."
Tapigliani finished her illustrious career as a two-time NAIA Women's Volleyball national champion, two-time NAIA All-Tournament Team selection, two-time NAIA All-America First Team selection, 2020-21 AMC Player of the Year, and three-time All-AMC selection. In 2021, the 6-foot-2 opposite hitter played in and started all 35 matches for the Spartans averaging 4.15 kills, 0.84 blocks, 1.90 digs, and 0.38 service aces per set while ranking in the NAIA's Top 20 in points per set, kills per set and hitting %.
In addition to volleyball and maintaining a flawless academic resume, Tapigliani has also stayed busy as an active member of the MBU community. As a senior, Tapigliani was recognized with the "Shine On Award" for consistently going above and beyond in service to the community and for leaving a lasting legacy upon graduation. The 2021-22 CoSIDA Overall Academic All-America® Team Member of the Year has also served as the women's volleyball representative for the Spartan Chaplain initiative, interned in the Advancement office, and this summer was named the Office Coordinator for MBU's School of Business.
"We are so proud of Gi and everything she has accomplished as a Spartan these past three years," head women's volleyball coach Chris Nichols said. "Winning back-to-back national championships and landing this prestigious honor for the second year in a row speaks volumes about her pursuit of academic and athletic excellence. Gi is a model student-athlete and has set the golden standard for future generations."
Copyright ©2022 MBU Athletics