Former Saint and BJ Reflects on 1st MLB Season
KSCB News - November 6, 2015 12:41 pm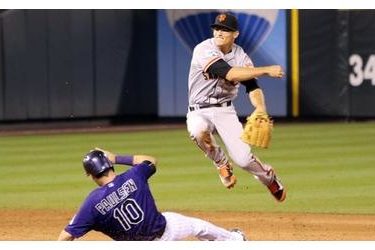 Seven years ago, Seward County freshman Kelby Tomlinson was wrapping up his first fall baseball season with the Saints. The tall, lanky infielder knew the history that the program had, knew the names of the players that had come before him, and also knew that an ever growing list of over 80 former players had gotten their shot in the Major League Baseball draft, but none had ever made it to the show. Not in his wildest dreams could Tomlinson imagine the course that his life would take over the next seven years, eventually leading the then 18 year old, all the way to the Major Leagues, where he would make his big league debut at 25 and go on to finish the season as one of just five MLB rookies to hit over .300 in their first year.
Tomlinson's post high school baseball journey started at Seward County Community College. A program that has had its fair share of success over the seasons, including 11 Jayhawk West Conference Championships in the 2000's and 16 conference titles all-time. He got the chance to play for a pair of veteran coaches in NJCAA Hall of Famer Galen McSpadden and Mike Davidson, at the time in his 13th year in college baseball. The two had seen many players come through the Seward program, including over 80 who were selected in the MLB draft, and didn't immediately put their finger on Tomlinson as the one who might be next. After all, Tomlinson's 2008-2009 squad featured a pair of intimidating right handers on the mound in 6'6, 225 pound Bobby Doran, who was eventually a 4th round pick of the Houston Astros, as well as 6'6 sinker baller Corey Collins who took his talents to Starkville, Mississippi to play for a Mississippi State team coming off of a trip to the College World Series a year before.
Tomlinson pushed through the most difficult off-season workout program that he had been a part of, distinctly remembering a time the Saints program calls "mentals", in which during a difficult time Coach Davidson urged the team that was struggling through a drill to "just quit, none of you guys will make it to the big leagues anyways." That pushed Tomlinson to put in the extra work, to become the player that he wanted to be. "I am surprised the lights still work in the outdoor batting cages" Tomlinson said. "We would be out there sometimes until 1:00 or 2:00 in the morning, security would come by to see what was going on" he said.
Because of a veteran group of infielders around him during his freshman season, Tomlinson's time on the diamond was limited to just 113 at bats, which ranked 10th on the team. He hit a pedestrian .274, slugging just .345 with six extra base hits and 15 RBI's, but was able to build some momentum going into the offseason, ending his first season with the Saints on a mini five game hitting streak which including a pair of hits against a Cowley closer named Trevor Rosenthal that he had no idea he would meet up with on a much bigger stage down the road.
Unlike most of his teammates, Tomlinson didn't scour the country to find a place to play summer ball, instead he headed back home to the Sooner State to play on a local Connie Mack team. Tomlinson got his reps that summer and came back to Liberal ready to go for his sophomore season.
Tomlinson burst onto the scene during his sophomore campaign, hitting .352 with 25 extra base hits, including six home runs, while also putting his speed on display with 28 stolen bases on the year. In a stretch late in the conference season, Tomlinson was unconscious at the plate, putting together seven straight multi-hit games, hitting .690 during the span to earn NJCAA National Player of the Week honors. Tomlinson was later named an NJCAA All-American and signed with Texas Tech University to continue his playing career.
Tomlinson stayed in Liberal the following summer to play for the Liberal BeeJays of the Jayhawk Summer Collegiate League. He again shined, leading the BeeJays to an NBC National Championship while earning Most Valuable Player honors voted on by his peers at the conclusion of the summer.
His meteoric rise continued in 2011 as he was a fixture in the Texas Tech lineup, hitting .307 while stealing 21 bases for the Red Raiders. He earned the Rawlings Gold Glove award at seasons end, the first in history given to a player in the history rich Big XII Conference.
After back to back big seasons, professional scouts finally began to see what the future might have in store for Tomlinson. In the June amateur draft, Tomlinson was selected in the 12th round by the San Francisco Giants, a team coming off of a World Series Championship a year before.
Following an abbreviated 2011 season with the Giants Rookie Ball affiliate in Arizona, Tomlinson made the jump to single A in 2012, stealing 36 bases and driving in 36 for Augusta. Tomlinson lived out of a suitcase during his third professional season, making stops at three different levels including rising to AA Richmond. He returned to play for the Flying Squirrels in 2014, spending the entire season in AA with the Giants, hitting .268 and showing off one of his best tools, stealing 49 bases on the year. He began the 2015 season with the Squirrels once again, but wouldn't be there long as he hit .324 with 18 doubles and 16 stolen bases in 64 games with Richmond before getting the call to move up to AAA Sacramento in June. Tomlinson didn't slow down there, hitting .316 with the River Cats, driving in 15 runs in just 33 games with the Giants AAA club.
Sunday, August 2nd, started as any other Sunday had over the past few years for Tomlinson, at Baseball Chapel, but this Sunday would end far different for the 25 year old. After driving in three runs for Sacramento in a 15-6 blowout win over the Salt Lake Bees, Tomlinson's dreams came true as his phone rang and on the other end was Giants General Manager Bobby Evans who told the former Saint to pack his bags and jump on a plane to Atlanta to join the big club Monday as they opened a three game series against the Braves. When asked what was going through his head when it happened, Tomlinson struggled for words saying "it was hard to process at the time. It is something you have hoped for your whole career and for it to happen is almost an emotional overload."
Tomlinson's career started as only two other players in history had, three hits in his first three at bats with the Giants, joining a very short list that was headed by Hall of Famer Willie McCovey, coincidentally, a one-time teammate of McSpadden's.
Success didn't stop after Tomlinson's first few days in the big leagues. After first expected to be up for just a couple of weeks while All-Star second baseman Joe Panik recovered from an injury, Tomlinson forced Giants management to make a tough decision where they eventually kept him on their 25 man roster despite Panik's return. While the Giants continued to catch bad breaks as a team in the middle of a run for the National League West pennant, Tomlinson continued to catch breaks favoring him as Panik's return from the disabled list lasted just three games while San Francisco also saw the injury bug hamper All-Star shortstop down the stretch. What all of this meant for Tomlinson was the heaviest workload of his professional baseball career, all coming in the games grandest stage. After a start against the Washington Nationals on August 15th in which he finished two for three with a double, a triple, and two RBI's against All-Star lefty Gio Gonzalez, Tomlinson played in 44 of the Giants next 45 games, establishing himself as a bonafide big leaguer in the process. But the success didn't come without a toll. Self admittedly, Tomlinson hit a wall multiple times in the final month of the season. "You kind of get to that 140 game mark, which is what you are used to playing in the Minor Leagues and your body starts to feel it" he said. "People don't realize that at that level, you don't just show up to the field at 6:30 for your 7:00 game and put your uniform on and go play. Sometimes you play a night game the day before, have to travel across country, get into somewhere at 3:00 or 4:00 in the morning, and then are back at the park at 12:30 the next day and don't leave until midnight" he continued. When asked how that effected his play, he said "you just have to fight through it. There is a second wind in there somewhere and you just have to find it. Once I was able to get over the hump, I felt good late in the season."
While Tomlinson felt good physically, it showed in his results on the field. With seven hits in the final four games of the season, he finished his rookie season hitting .303 overall, ranking him fourth among all MLB rookies with at least 100 at bats in 2015. "I was glad to be able to finish the year over .300" Tomlinson said, "but it wouldn't have been something that ruined my season if I would have finished at .297" he continued. Playing in a big market in San Francisco, Tomlinson had plenty of opportunities to shine in 2015 and he took full advantage of those chances. On August 27th, Tomlinson cranked his first Major League homerun and happened to do it in grand slam fashion in a win over the Chicago Cubs. Tomlinson pointed towards that as the one moment in the season that made the normally stone faced infielder, step back and say 'wow'. "After I hit the grand slam, the entire stadium gave me a standing ovation. But it wasn't just after the home run, they continued to stand and yell the whole next half inning when we were on defense. I couldn't help but keep smiling and then I look up on the jumbotron and there I am cheesing, it was pretty special" Tomlinson said. He went on to say "The Giants fans are just great. They are so passionate about their team and are always behind us. They are more knowledgeable about what is going on baseball wise than most other fans." It didn't take long for Tomlinson to have another memorable moment as just one day after his first career home run, he came to the plate in a tie game in the bottom of the 9th inning in a playoff type atmosphere as the Giants battled the St. Louis Cardinals. Like a veteran that had been there a thousand times before, Tomlinson lined a single up the middle for a walk-off victory for the Giants, a game in which San Francisco media outlets tabbed a 'Spec-tacular' win, poking fun at Tomlinson's Clark Kent like glasses he wears during games. He put his final stamp on his rookie season on the second to last day of the regular season in front of his home crowd in San Francisco, doing something that only a handful of big leaguers have ever done, hitting an inside-the-park home run against the Colorado Rockies. "It was funny after the game because one of my coaches told me; you will always be able to say you hit an opposite field home run here at AT&T Park" Tomlinson said, again making light of the fact that he probably wouldn't be reaching McCovey Cove with the regularity that greats like Barry Bonds had playing before him.
Known as an organization that sees great success from their young players, Tomlinson said as soon as he stepped in the clubhouse he could tell why "the guys never treated me like a rookie" he said. "There are some veteran guys that take you under their wing and make it seem like you have been playing together for three or four years even though I had really only played a complete season with a couple of them." Tomlinson said that while all of the Giants were great to be around, one stood out when he was asked who the best teammate on the Giants was, former Liberal BeeJays Hunter Pence. "Hunter just brings so much energy" Tomlinson said. "Even when he was hurt and in the dugout, he found ways to help us. Whether it was talking about an at bat, or getting everyone to rally together in a big spot, he was always right there in the middle of it." When asked the biggest differences between minor league ball and the big leagues, Tomlinson said "you don't really think about it in the minors because you always complain about the long bus trips after games, but in the big leagues, sometimes you are flying across three or four time zones one day and by the time you catch up in your head, you are going back the other way, that gets a little crazy." He said preparation wise, the information that is available to players at the Major League level is mindboggling. "There is almost too much information to process" Tomlinson said. "You can almost literally get any sort of tendency, or chart that you want on a pitcher or hitter. You really have to pick and choose what you focus on because there just isn't enough room in your head to wrap around everything that is available" he went on to say.
Tomlinson squared off with some of the best the game had to offer this season, drawing starts against pitchers like Zack Grienke, Jake Arrieta, Stephen Strasburg, and Sonny Gray, but in the end, he said that three time Cy Young Award winner Clayton Kershaw is still the toughest to face. "Kershaw is so deceptive. He can throw any pitch at any time, wherever he wants to" Tomlinson said. "He throws it 96 on the inside corner and then comes back with what looks like the same pitch until you figure out too late that it is the cutter coming in on your hands" he remembered about his battled with the lefty. But it wasn't even that that Tomlinson said was what was best about Kershaw, saying the best pitch that he saw in 2015 was the southpaw's curveball. "All big leaguers curve balls are good" Tomlinson said "but Kershaw's is on another level. It has so much depth and breaks so much, it is really hard to square up." When on the topic of the Los Angeles Dodgers' star, Tomlinson said of what is thought of as one of the biggest rivalries on the diamond "there is just so much animosity from the crowd in LA" he laughed. "Their fans just hate us, but I think the rivalry is more between the fans than the players. They have some great guys on their team."
Tomlinson's offseason began with a short trip to Arizona for some Instructional League action in the outfield, somewhere that many are predicting he might get work at in 2016. "As far as I know, my role won't be a whole lot different than it was this year" Tomlinson said. "I will put in some work in the offseason in the outfield just in case I am needed there and can help the team next year, but I will also continue to work on being the best infielder that I can so I am ready once Spring Training hits" he continued.
Tomlinson and his wife Tiffany have chosen to make Liberal their offseason home, recently purchasing a house in the Southwest Kansas town. When asked why Liberal was the right fit for the Tomlinson family, which includes Kelby and Tiffany's dog Tilly, Tomlinson said "There are a lot of different things that just make Liberal the perfect fit for us. Seward County continues to let me workout with the team there and helps me out any time I need something baseball wise. Tiffany's family is here which has been so supportive of us throughout our journey. Our church is here, which is a big part of our lives and the people of Liberal have treated me so well throughout the process, long before I was in the Major Leagues."
CLICK HERE FOR A PHOTO GALLERY OF TOMLINSON IN ACTION THIS SEASON AGAINST THE COLORADO ROCKIES<http://www.sewardsaints.com/sports/bsb/2015-16/photos/0001/index>
Roy Allen