Former Liberal Resident, Coach Participating in The MS Run the US 2018 Relay
Joe Denoyer - April 12, 2018 11:29 am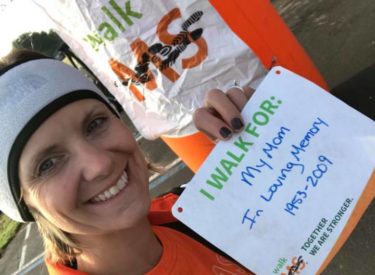 https://www.firstgiving.com/fundraiser/katie-kline-1/msruntheus2018relay
The MS Run the US 2018 Relay is a 3,100 mile relay across America to raise awareness and funds to help CURE Multiple Sclerosis (MS)! The Relay begins April 2018 in Los Angeles, CA and is completed August 2018 in New York, NY. I will be running Segment 9 from Wray, CO to Holdrege, NE from June 6-11. 165 miles in 6 days!!
Eighteen (18) runners have been selected to run, on average, 160-miles over six consecutive days during their individually assigned segment. Each runner dedicates a week of running on the road, while collectively the Relay spans a distance and duration of 3,100-miles in 4 months. 
Donations are given to fund research for a cure through the National MS Society, raise awareness about the disease, and to assist those living with disability from MS.
MY STORY:
My mother, Shirley Bourell, was diagnosed with Multiple Sclerosis when she was 33 years old following what she thought would be a routine eye exam. Her eye doctor thought he saw abnormalities during the exam, and after additional testing, she was eventually diagnosed with Secondary Progressive MS (SPMS). I was a year old at the time. The early stages of her disease were characterized by a remittance-relapse course, but eventually progressed in to a steady worsening of neurologic function. I don't remember a time of my childhood that my mom was able to walk without the aid of a cane or walker. Eventually she became confined to the use of a wheelchair, and in the last few years of her life, she became bedridden. Although she faced many battles on a daily basis, she always had a smile on her face and was the rock of our family. I have never met someone so full of faith, strength, determination, and grace. To be even half the women she was is what I strive for on a daily basis. She was my biggest fan. She is my hero. She was a true MS Warrior. 
I have been a runner for over half my life. I love running and everything that it represents. I grew up as a cross country and track athlete. I loved the competition, comradery, friendship, and lessons it taught. So many things in life can be related to running…working hard, dedication, perseverance, and mental toughness. So much of who I am has come from running. As I have gotten older and added the roles of wife, mom, friend, and full-time job, running allows me to remember who I am and helps me to fulfill those roles to the best of my abilities. Although I have transitioned out of team sports, I still very much enjoy racing and pushing myself through various running distances including 5k, 10k, and half marathons. To date I have only ran in one full marathon, but hope to soon change that as training begins.  
When I heard about MS Run the US, Inc. and their mission, I knew instantly I had to be a part of their team. The MS Run the US Relay will be the ultimate test of strength, endurance, and mental toughness. I cannot think of a better way to honor the memory of my mom than to combine my passion for running with raising funds for research towards a CURE for so many still being affected by this disease!
HOW TO HELP KATIE: COPY AND PASTE THIS LINK:

https://www.firstgiving.com/fundraiser/katie-kline-1/msruntheus2018relay
You likely know someone affected by this debilitating and unpredictable disease. There are over 400,000 Americans with MS and over 2 million worldwide. My goal is to raise $10,000 to aid in awareness, research, and for individuals in need. Any donation amount will help as we strive to find a CURE for MS!! 
I am looking for mile sponsors for each mile of the run! For a $50 donation, your name will be added to the back of one of my 6 running shirts, on the mile(s) that you would like to sponsor, that I will wear throughout my relay segment and you will be acknowledged on that day of my run!!
Please consider helping as we run farther to serve others, and know how much your donation is appreciated by myself, MS Run the US, Inc., and the MS Run the US Relay team!!