Former Liberal Grad Student Of The Month at Kansas State
KSCB News - May 5, 2015 1:48 pm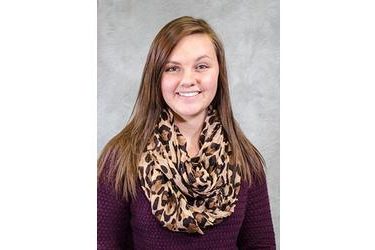 Caitlin Hinnergardt is a Junior in Elementary Education with an emphasis in social sciences. Caity has maintained a 3.5 GPA while at K-State and is active in the community of Manhattan, playing softball, going to church at Crestview, and working at a local child development center.
She has become an integral part of Education Council. She assisted with the Purple Power Trunker Treater at Bergman Elementary School and served as chairman of the Purple Power Valentine Party, also at Bergman. She was an assistant chairman of the 2015 K-State College of Education Open House and will be co-chair of the 2016 Open House. She served on the Aprendiendo del Arte planning committee.
Caity interacts with her peers and faculty members in the College of Education with a high degree of respect and professionalism and is a role model for her peers in the College. Caity says, "I want to be able to change students' lives for the better. I want to be able to fuel their love for education and life. I hope to inspire students that knowledge is the best thing that they can give themselves, and to always want to keep learning."
The College of Education Student Council is pleased to recognize Caitlin Hinnergardt as the May 2015 Student of the Month.