Former BJ Coach Added to Baylor Staff
Brock Kappelmann - July 7, 2022 5:12 pm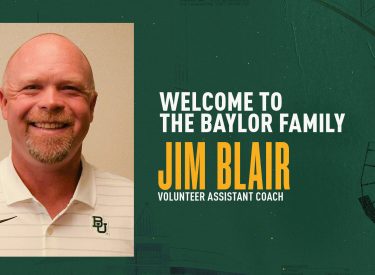 It has come to light why former Bee Jay coach Jim Blair left the team mid season. He has landed a job with his alma mater, Baylor. Blair recruited and coached the BJ's before this opportunity presented itself.  He told the team he was leaving for a college coaching job June 29 before the Bee Jay game against Dodge City.  Here is a release from Baylor.
Texas – Baylor baseball head coach Mitch Thompson announced Thursday the addition of volunteer assistant coach Jim Blair to his staff.
Blair, a former Baylor baseball player from 1996-98 and 21-year veteran coach at the high school and collegiate levels, returns to Waco after leading newly-founded San Antonio Pieper High School to a 21-5 record in the program's first year.
"I am very excited to add yet another former Bear to our staff in Jim Blair," Thompson said. "Jim brings a wealth of experience from coaching at all levels of the game and adds tremendous value to what we're building at Baylor. His deep Texas roots will benefit our program greatly in recruiting, and his knowledge and experience at helping players maximize their talents will help each of our athletes reach their full potential. We are blessed to have him back in the green and gold."
Before heading up the Warriors program in 2022, Blair spent two seasons at New Braunfels Canyon High School, where he was named the 2021 26-5A Coach of the Year after leading the Cougars to a district championship. Blair's squad finished the '21 season on a 17-game win streak and ranked No. 10 in the state of Texas at the 5A level. In two years at Canyon, Blair saw nine players move on to play college baseball after compiling a 34-10 record.
"It is extremely humbling and exciting to have the opportunity to work with Mitch and the rest of the staff here at Baylor," Blair said. "Baylor is a special place, and I feel fortunate to be a part of Mitch's vision and what he sees for the future of this program. I'm excited to work alongside the rest of the coaches to bring championships to Waco and continue to Prepare Champions for Life both on and off the field."
Prior to coaching at the high school level, Blair spent 18 years at three different universities in the state of Texas, including two stints at UTSA. In total, he coached 32 hitters that have garnered all-conference honors a combined 38 times, mentored nine All-Americans, participated in six NCAA Regionals, won five conference tournament titles and recruited over 40 players who were drafted or signed professional contracts, including five who have reached the Major Leagues.
Blair spent seven seasons on staff at UTSA as associate head coach and recruiting coordinator from 2013-19. In 2018 and 2019, he served as the team's pitching coach after directing the Roadrunners' offense for five years. His staffs produced the two highest single-season strikeout totals in UTSA history and 2018's squad saw a school-record four players picked in the MLB Draft. Offensively, UTSA finished in the top-four in eight major categories in its first two seasons in Conference USA under Blair's guidance.
In 2012, Blair was an assistant coach and recruiting coordinator at Dallas Baptist, where he helped the Patriots to a 41-19 record and an appearance in the NCAA Waco Regional. DBU posted a .304 team batting average and finished fifth in the nation in slugging percentage and seventh in home runs, while producing a pair of All-Americans in Joel Hutter and Boomer Collins. In his one year as recruiting coordinator, the Patriots inked five pitchers that would eventually be taken in the top 12 rounds of the 2015 MLB Draft.
Prior to coaching in Dallas, Blair spent five seasons at Sam Houston State from 2007-11 as an assistant coach and recruiting coordinator under legendary coach Mark Johnson. While in Huntsville, Blair helped the Bearkats to three-consecutive NCAA Regional appearances (2007-09) and tutored a pair of All-Americans in Bobby Verbick and Todd Sebek. Blair's responsibilities included mentoring the offense, which set 19 school records during his tenure. As recruiting coordinator, he signed 22 players to National Letters of Intent that were either drafted or signed with MLB organizations and coached 11 All-Southland Conference honorees.
Blair spent the previous five campaigns as an assistant at UTSA from 2002-06. While in the Alamo City, he served as the hitting coach and helped the Roadrunners earn a berth to the 2005 NCAA Waco Regional. He tutored All-American Mark Schramek, who became the first player in UTSA history to be selected in the first round of the MLB Draft as the 40th overall pick by the Cincinnati Reds in 2002.
Before entering the coaching ranks, Blair was a three-year starter for Steve Smith at Baylor. He twice earned All-Big 12 laurels and still holds the program record with a 31-game hitting streak. Blair led the Bears with a .376 batting average in 1997 and signed a free-agent contract with the Los Angeles Dodgers in 1998.
Blair graduated in 2000 with a bachelor's degree in education with emphasis in health and human performance and received his master's degree in sport management from Sam Houston State in August 2013.
He and his wife, Pamela, have three sons, Carson, Andrew and Reid.
For the latest news on the Baylor baseball program, for its official Facebook, Twitter and Instagram accounts: @BaylorBaseball.